Glass frog is more translucent when sleeping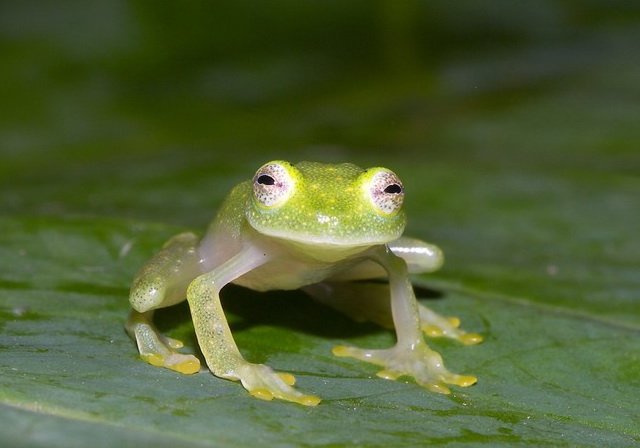 A sleeping Fleischmann's glass frog can hardly be seen. Red blood cells, which would make the animal visible, are stored away temporarily, Carlos Taboada and colleagues write.
Fleischmann's glass frog has transparent muscles and a transparent ventral skin that transmit light, rendering heart and intestines visible from below. The skin of its back contains a little green pigment. With these qualities, the animal is translucent: a form of camouflage. But red blood cells – which do not transmit the light, but reflect red light and absorb other colours – can spoil the effect.
Carlos Taboada and colleagues show that the frog has a way to solve this problem: when it sleeps, it removes almost all red blood cells from the bloodstream.
Sleep during daytime
Glass frogs belong to the few translucent land animals that exist. Fleischmann's glass frog, Hyalinobatrachium fleischmanni, is one of them. The animal, which grows up to three centimetres in length, is found in rainforests in Central and South America. Adult frogs live on land. They are active at night and sleep during daytime, hanging upside down under a leaf. The less they stand out against the leaf when sleeping, the harder it is for predators, mainly birds, to spot them.
It is helpfull that the glass frog is translucet. And by removing almost all red blood cells, about 90 percent, from circulation, a sleeping glass makes itself extra translucent. It hides the red blood cells in the liver, which expands considerably as a result. So, the glass frog is more difficult to detect while resting, when it cannot be alert. As soon as the animal resumes activity, the blood cells go back into the bloodstream and translucency diminishes.
Oxygen
Red blood cells are red because they contain the pigment haemoglobin, a protein that binds oxygen; red blood cells carry oxygen to all other cells. During sleep, therefore, the cells receive no oxygen. Apparently, they are able to coop with that.
Willy van Strien
Photo: Fleischmann's glass frog. Esteban Alzate (Wikimedia Commons, Creative Commons CC BY-SA 2.5)
Sources:
Taboada, C., J. Delia, M. Chen, C. Ma, X. Peng, X. Zhu, L. Jiang, T. Vu, Q. Zhou, J. Yao, L. O'Connell & S. Johnsen, 2022. Glassfrogs conceal blood in their liver to maintain transparency. Science 378: 1315-1320. Doi: 10.1126/science.abl662
Cruz, N.M. & R.M. White, 2022.  Lessons on transparency from the glassfrog. Transparency in glassfrogs has potential implications for human blood clotting. Science 378: 1272-1273. Doi: 10.1126/science.adf75
Barnett, J.B., C. Michalis, H.M. Anderson, B.L. McEwen, J. Yeager, J.N. Pruitt, N.E. Scott-Samuel & I.C. Cuthill, 2020. Imperfect transparency and camouflage in glass frogs. PNAS 117: 12885-12890. Doi: 10.1073/pnas.1919417117