Mother transfers nutrients to the young in her dorsal pouch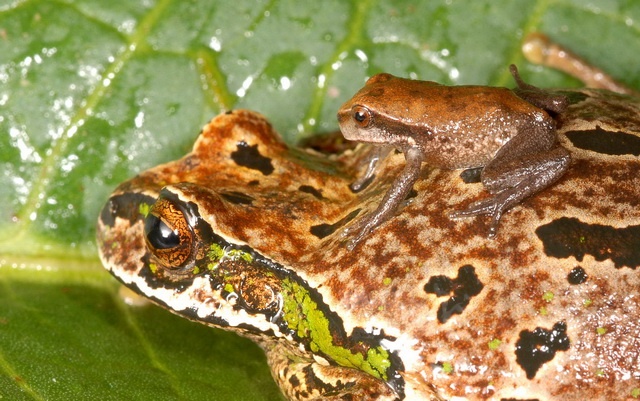 Young of the live-bearing frog Gastrotheca excubitor are well taken care of. The mother carries them in a brood pouch on her back and provides them with nutrients, as Robin Warne and Alessandro Catenazzi show.
In many frog species, females lay their eggs in the water and then leave them alone. After hatching, the tadpoles take care of themselves. Parents of other species look after their young to some extent: the father or mother sees to it that the eggs, which are deposited above a water body, remain moist, or the parents carry the tadpoles to a suitable pool to grow up and bring them some food.
Brood pouch
A few species go even further: parents retain the young in or on their body until they have developed into froglets. One of them is Gastrotheca excubitor, a terrestrial marsupial frog of Central and South America. A mother carries the young in a brood pouch on her back and she transfers nutrients to them, Robin Warne and Alessandro Catenazzi report.
A male clasps a female that is about to lay eggs (amplexus) and fertilizes them when they come out. He then leads them into her dorsal brood pouch, a skin fold with an entrance at the rear. It accommodates more than ten eggs.
During pregnancy the brood pouch is sealed, so the eggs and, later, the hatchlings cannot take up oxygen from their environment. Respiratory gas is exchanged with the mother, as was already known, through the numerous blood vessels in the brood pouch membrane which folds over each egg. The eggs absorb oxygen through the egg membrane and hatchlings breathe through their large external and well vascularised gills that have fused to a 'bell'. All nutrients the embryo needs are contained in the yolk, the idea was, as they are in other frog species.
Nutrients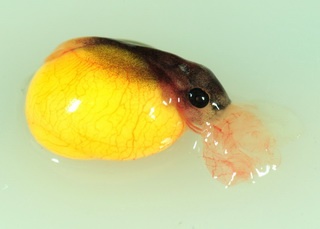 But Warne and Catenazzi hypothesized that a mother provides her young also with nutrients, using the extensive network of blood vessels. Because she retains them for a long period – until they have fully developed into froglets – the amount of yolk may be insufficient, they reasoned. And experiments showed that this is true. The researchers fed pregnant frogs with insects that were chemically labeled (with rare isotopes of carbon and nitrogen, 15N and 13C), and found that the amounts of isotopes increased in the embryos. In addition, the developing froglets gained weight. So, nutrients must be transferred from mother to young.
More species of live-bearing frogs exist. In some species, the males swallow fertilised eggs and brood them in their vocal sac. There are also species in which the females ingest the eggs, which develop in their stomachs, and species in which froglets develop in the oviducts. Transfer of nutrients, however, is rare.
Willy van Strien
Photos © Alessandro Catenazzi
Large: mother with one of her emerged young
Small: larva
Sources:
Warne, R.W. & A. Catenazzi, 2016. Pouch brooding marsupial frogs transfer nutrients to developing embryos. Biology Letters 12: 20160673. Doi: 10.1098/rsbl.2016.0673
Wake, M.H., 2015. Fetal adaptations for viviparity in amphibians. Journal of Morphology 276: 941-960. Doi: 10.1002/jmor.20271