Male spider cheats female with densely wrapped rubbish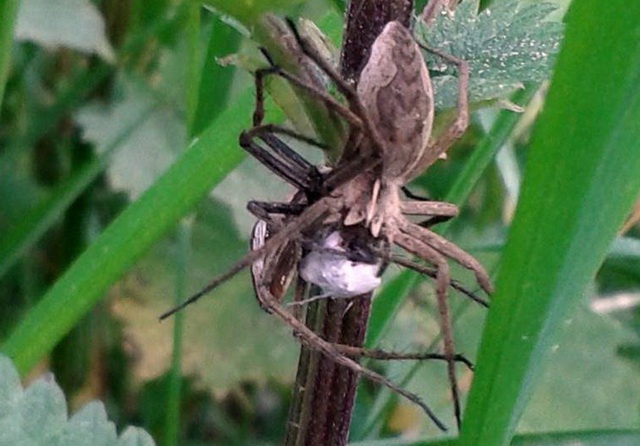 A male nursery web spider may offer its partner a worthless package instead of a decent nuptial gift. He wraps such a fake present in many layers of silk, Paolo Ghislandi and colleagues show, so that it takes longer before the female detects the deceit and sends him away.
When you give someone a cheap gift, you'd better wrap it well. At least, that is the rule in the nursery web spider (Pisaura mirabilis), a hunting spider that occurs throughout Europe, as Paolo Ghislandi and colleagues report. A male usually carries a nuptial gift when he is looking for a female to mate with. It should contain one or more prey items that he has caught to offer her and wrapped in white silk. A female, happy to get a nice meal, will allow the male to mate her, while she often rejects a male without a present, as Maria Albo had shown.
But instead of a meal, a female often finds the hard leftovers of an arthropod prey or some plant parts after removing the silk – an inedible gift that is worthless. Is a male giving such a gift in bad condition and unable to capture a prey and offer it? Or couldn't he find anything better?
No, instead of inability it is pure deception, as Ghislandi concludes from field observations and behavioural experiments in the laboratory. Even a male that is well-fed and heavy – and therefore capable to catch and offer a prey – often cheats its partner with wrapped rubbish.
And he is successful, for as a female is unable to determine whether a white package contains something edible or not, she will accept a male with a fake present as readily as a male that carries an edible gift.
But ultimately, a cheating suitor will still be punished: the mating lasts briefly. A male can transfer its sperm while the female consumes her gift; it she is finished, he has to go. Consequently, when the gift is inedible, the mating will end soon, so a cheating male will transfer less sperm than a honest male. That is a disadvantage, because a female mates with several males and their sperm must compete for the eggs to be fertilized. The more sperm cells a male transfers, the more offspring he will sire.
Ghislandi also discovered that fake presents are wrapped in more layers of silk than real gifts, so cheating males invest a lot in wrapping. Probably, this is a trick to prolong mating, because the more silk is wrapped around the gift, the longer it takes a female to detect the deceit and stop the copulation.
Still, a really long mating will not ensue. And maybe that's not so bad after all: a male cheating a female with a fake present may fertilize less eggs, but he saves time and energy to find other females, thereby increasing is lifetime reproductive success as well.
Willy van Strien
Photo: ©Paolo Ghislandi
Sources:
Ghislandi, P.G., M. Beyer, P. Velado & C. Tuni, 2017. Silk wrapping of nuptial gifts aids cheating behaviour in male spiders. Behavioral Ecology, online February 23. Doi:10.1093/beheco/arx028
Ghislandi, P.G., Albo, M.J., Tuni, C. & T. Bilde, 2014. Evolution of deceit by worthless donations in a nuptial gift-giving spider. Current Zoology 60: 43-51. Doi: 10.1093/czoolo/60.1.43
Albo, M.J., G. Winther, C. Tuni, S. Toft & T. Bilde, 2011. Worthless donations: male deception and female counter play in a nuptial gift-giving spider. BMC Evolutionary Biology 11: 329. Doi: 10.1186/1471-2148-11-329