By guarding stepkids, bee male may get the mother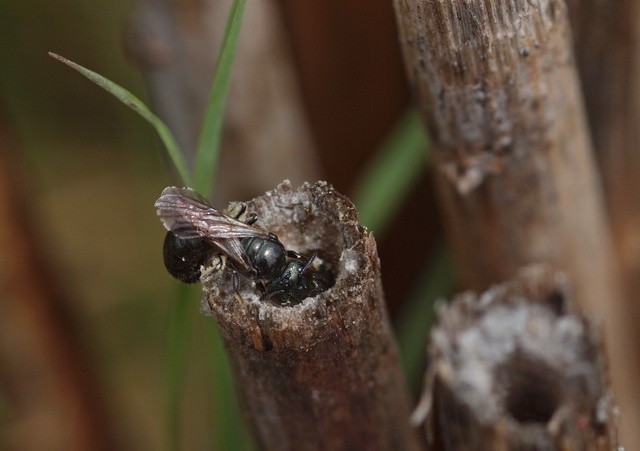 Ceratina nigrolabiata bee males guard the nest of their female partner. This seems surprising, as the brood consists mainly of other males' offspring, as Michael Mikás and colleagues show. Still, the males have good reason.
Bee males don't do much. Okay, they mate with females and of course that is important, but that's it. The females construct a nest and take care of the offspring. In solitary species, such as the species that visit a bee hotel, each female makes her own nest; social species, such as the honeybee, live in groups in which queens produce eggs and workers do the work.
There is one exception, Michael Mikát and colleagues report: in the solitary bee species Ceratina nigrolabiata, males do participate in care – but, surprisingly, mainly by protecting other males' offspring.
Guard
A Ceratina nigrolabiata female makes her nest in the hollow stem of a plant. She goes inside, lays an egg, brings food for the larva that will hatch, closes the space by building a wall and lays another egg in the next part of the stem. Ultimately, a nest consists of six to seven cells in a row, with young in a descending stage of development when viewed from the inside out. The mother leaves when the nest is completely provisioned.
In the majority of nests in which a female is active, a male is present, as the researchers observed during their studies in the Czech Republic. When the female performs foraging trips, the male stays inside the nest to protect it from predators such as ants, driving them away when they come near. He is sitting near the entrance with the head facing inwards. When she returns, she will scratch his abdomen and he will let her pass.
The benefit for her is clear: thanks to this guard, she can leave to forage without having her nest unattended.
For him, it is different. DNA analyzes show that in most cases the brood that he protects does not contain any offspring that he fathers. So he takes care of other males' offspring, and in general, that is not a good strategy from an evolutionary point of view.
Male switches
In fact, the bee males have no interest in the brood at all; it is the mother that captivates them. A male only has a chance to mate if he finds a female and stays with her until she is willing; in Ceratina nigrolabiata, a female will mate several times in her life. So he has to stay at her nest. While he certainly participates in care by actively protecting the brood, this stepfather care is a by-product of monopolizing a female, according to the researchers.
And indeed, if they removed a female from her nest, the male abandoned the brood.
So, every female is assured of a helpful lover. If a male disappears, his place is usually taken by another.
These stepfathers are not ideal helpers, because they stay on average for only seven days, while a female needs about forty days to complete her nest. As a consequence, the male inhabitant of most nests changes one or more times, and in fatherless periods the female spends less time collecting food, staying on the nest instead. The more changes, the fewer offspring she therefore can produce. But at least she gets help, which is unique among solitary bees.
Willy van Strien
Photo: Ceratina nigrolabiata, female returns at her nest in a hollow plant stem and scratches the guarding male. ©Lukáš Janošík
Source:
Mikát, M., L. Janošík, K. Cerná, E. Matoušková, J. Hadrava, V. Bureš & J. Straka, 2019. Polyandrous bee provides extended offspring care biparentally as an alternative to monandry based eusociality. PNAS: 116: 6238-6243. Doi: 10.1073/pnas.1810092116