Thanks to helpers, cichlid mothers acquire more food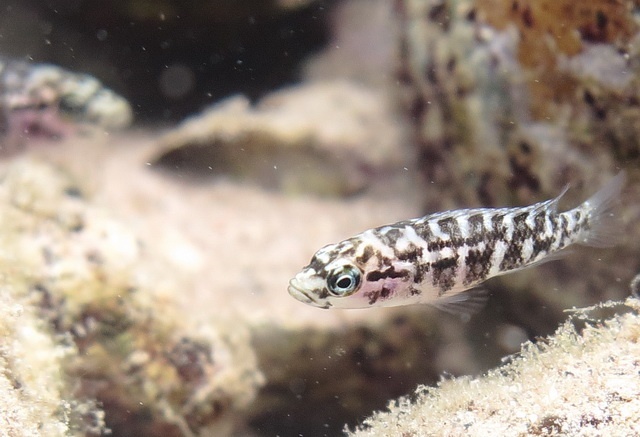 When young of the cichlid species Neolamprologus obscurus have grown up, they are allowed to remain in the territory of their mother for a while because of their help. Hirokazu Tanaka and colleagues wanted to know why that help is important.
Neolamprologus obscurus, a cichlid fish that occurs in Lake Tanganyika in Africa, lives in groups in which each breeding female owns a territory along a steep bank, where she has dug out several cavities under stones. In those safe shelters, she spends almost all her time and she uses them for breeding. She guards her eggs and fry, and chases conspecifics out of her territory.
But her grown up young are allowed to stay. They help her defend the territory and maintain the shelters by removing sand that continuously enters from the edges.
Tiny prey
The removal of sand from the shelters is most beneficial to her, Hirokazu Tanaka and colleagues discovered. The shelters not only serve as a safe residence and as a breeding ground, but they are also a means to acquire food. The fish feed on small benthic invertebrates, especially shrimp. These tiny animals move up to the water surface at night to forage, but in the full light of the day they are not safe there and before dawn, they sink back to the bottom to hide in cracks and cavities – such as cavities in which Neolamprologus obscurus lives. The food comes to the fish by itself.
Tanaka shows that the larger a cavity is, the more benthic invertebrates immigrate at dawn. Because of this increased food abundance, it is desirable for a breeding female to have helpers that maintain the shelters and even enlarge them.
Content
Of course, helpers take some of the food that they acquire, so part of the gain is lost for the breeding female. But she still profits, because the more helpers are present to remove sand from the edges of the cavity, the longer those edges can be. And the area and content increase even more: with a double number of diggers, maintaining a cavity with a circumference that is twice as large, the area and the volume become four times larger, and as a consequence, more food is available per fish when more helpers are around.
But there is a limit to the number of helpers a female will tolerate; it will be no more than ten. So, when young fish have become larger, they will disappear from her territory to start for themselves.
Willy van Strien
Photo: Neolamprologus obscurus, helper. ©Hirokazu Tanaka
Sources:
Tanaka, H., J.G. Frommen & M. Kohda, 2018. Helpers increase food abundance in the territory of a cooperatively breeding fish. Behavioral Ecology and Sociobiology 72: 51. Doi: 10.1007/s00265-018-2450-5
Tanaka, H., J.G. Frommen, L. Engqvist & M. Kohda, 2017. Task-dependent workload adjustment of female breeders in a cooperatively breeding fish. Behavioral Ecology 29: 221–229. Doi: 10.1093/beheco/arx149
Tanaka, H., D. Heg, H. Takeshima, T. Takeyama, S. Awata, M. Nishida & M. Kohda, 2015. Group composition, relatedness, and dispersal in the cooperatively breeding cichlid Neolamprologus obscurus. Behavioral Ecology and Sociobiology 69: 169–181. Doi: 10.1007/s00265-014-1830-8