Females apply more colourful make-up than males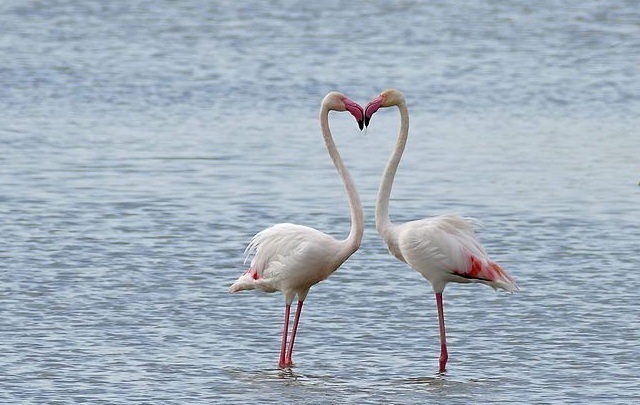 To catch the attention of possible mates, flamingos use make-up. They produce a colourful oil which they apply over the feathers to reinforce their colour, signalling their quality. For females this is more important than for males, Juan Amat and colleagues write.
Flamingos, both males and females, are keen to find the best mate they can get. Mate selection is a cumbersome process. Months before breeding, the birds join large mixed groups to see each other and to be seen. They exhibit their plumage with outstretched necks and stuffed feathers. And when they selected a mate, the game is not finished yet. They stay alert, and if possible they exchange their mate for a better one. Mutual assessment and selection continue until they actually start breeding.
It is important to stand out with a beautiful pink plumage in such displaying group, because a colourful bird is preferred and will quickly acquire an equally attractive partner. Together they can occupy a good nesting place in the breeding colony, enjoying an advantage over less popular birds.
A beautiful colour is attractive for good reason. The feather colour arises during moult at the end of the summer, when the birds incorporate pigments (carotenoids) that they ingested with their food into their feathers. A beautiful colour is proof that the bird has been successful in obtaining food. It can afford to incorporate the pigments into the feathers, which means that it is not under pressure, because in that case it would have to use the pigments to prevent cell damage caused by stress. The substances are antioxidants, which eliminate harmful oxygen radicals that arise during stress. In short, a bird that has beautiful a colour after moult is healthy and in good condition.
However, a long time passes by between the periods of moult and mate choice during which the original colour fades, and in this time the condition of a bird may either improve or deteriorate. The original feather colour is no good indicator of condition during display. How is it possible to make a good choice?
Cosmetics
There is a solution to this problem. The birds are able to reinforce the colour of their feathers, Juan Amat and colleagues showed in 2011; the team studies a large colony of greater flamingos (Phoenicopterus roseus) that breeds on islands and dikes in the salty South Spanish lagoon Fuente de Piedra, a nature reserve.
Flamingos produce a preen oil in the uropygial gland with pigments that were ingested with their food. They apply the preen oil over the feathers by rubbing their cheeks first on the gland and then along neck, chest and back, using the oil as cosmetics. The feather colour now is an up-to-date indicator of health and condition, because only strong birds find sufficient food to obtain pigments and can use them to tinge their plumage. They also have the time to reinforce the colour of their feathers frequently, which is necessary as the applied pigments quickly bleach.
Amat showed that the more time the birds spend rubbing, the deeper pink the colour of their plumage is. They produce preen oil with highest pigment concentrations in the period of display, when they use their make-up extensively and are most colourful. Once they have started breeding – each pair produces one young -, they stop maintenance behaviour of plumage and the colours fade. The parents stay together until their young is independent, after about three months. They then split up – and in October the long-lasting game of display and mate choice starts again.
Effort
Now, Amat shows that on average females are more colourful than males. They exhibit the same rubbing behaviour, but their uropygial gland contains pigments in higher concentrations. Apparently, it is more important for females to signal their quality.
As the researchers explain, the care for the young is more demanding for the mothers than it is for the fathers. The wetlands where the birds forage are no less than 150 to 400 kilometres away from the breeding colony. So, provisioning the chicks is quite an effort. The female makes the trip more frequently than the male and as she is smaller, the journey is heavier for her. That is why, during pair formation, she has to convince males beforehand that she can handle this task by showing a beautiful pink colour.
After the chick hatched, the female's colour fades faster than that of her mate because now she is under more pressure and needs the pigments to combat stress damage. She doesn't need to be attractive anymore – until the next display period starts.
Willy van Strien
Photo: Bernard Dupont (Wikimedia Commons, CC BY-SA 2.0)
Watch flamingos parading their plumage
Sources:
Amat, J.A., A. Garrido, F. Portavia, M. Rendón-Martos, A. Pérez-Gálvez, J. Garrido-Fernández, J. Gómez, A. Béchet & M.A. Rendón, 2018. Dynamic signalling using cosmetics may explain the reversed sexual dichromatism in the monogamous greater flamingo. Behavioral Ecology and Sociobiology 72: 135. Doi: 10.1007/s00265-018-2551-1
Amat, J.A., M.A. Rendón, J. Garrido-Fernández, A. Garrido, M. Rendón-Martos & A. Pérez-Gálvez, 2011. Greater flamingos Phoenicopterus roseus use uropygial secretions as make-up. Behavioral Ecology and Sociobiology 65: 665-673. Doi: 10.1007/s00265-010-1068-z