Ant worker transports young queen to suitable mates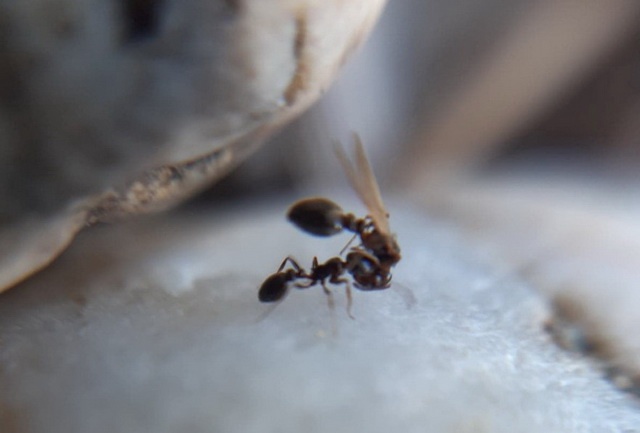 Workers of the ant Cardiocondyla elegans make sure that their queen sisters will meet unrelated males, Mathilde Vidal and colleagues show.
Young queens of the ant Cardiocondyla elegans do not leave the natal nest on their own to be inseminated outside. Although they have wings, they make no nuptial flights like queens in many other species. They stay inside. Males have no wings, and they too remain in the natal nest. And so it happens that young queens, or gynes, mate with males that were born in the same nest. But workers intervene to promote outbreeding, Mathilde Vidal and colleagues discovered.
Cardiocondyla elegans, which is mainly found along the Mediterranean, contructs underground nests on river banks. Hundreds of workers, dozens of young queens and a few males share a nest, headed by one fertile queen. This mother queen has mated with several males and stored their sperm to fertilise eggs.
As a consequence, the gynes and males in her nest are full and half siblings. If they mate with each other, this is inbreeding, and prolonged inbreeding has negative effects on the lifespan of mother queens, the survival of brood and the ratio of females (workers and young queens) to males.
Vidal had observed workers walking through the field between nests, carrying a winged young queen on their back. She wondered whether this queen transport could be a way to promote outbreeding. Behavioral observations and genetic research confirmed this idea.
New contacts
The researchers discovered that gynes do indeed mate in the natal nest. But it doesn't always stop there. A worker regularly drags a young queen out of the nest, takes her head between its jaws and carries her on its back to another nest, where it drops her into the nest entrance.
Just below that entrance, as it turned out, is a chamber with hundreds of young queens and males. It is obvious what is happening there. The nest chambers with mother queen and brood are much deeper, 1 to 2 meters below the surface. By dropping a young queen into the entrance of an alien nest, a worker brings her into contact with males that are not (half) brothers. The nest where a young queen is delivered also profits because males can mate not only with (half) sisters, but also with an unrelated queen.
After delivery, a queen is sometimes picked up again and taken to still another nest.
Hibernation
Young Cardiocondyla elegans queens hibernate in the natal nest or in the nest to which they were brought. They retain their wings. In spring they leave, usually on foot, to found a nest on their own, with a stored stock of sperm from several males: (half) brothers and, if they have been transported to another nest, alien males. Once they have started their own nest, they lose their wings.
Apparently, young queens are able to disperse on their own. Then why don't they leave the natal nest to mate elsewhere?
Maybe it's quicker and safer to be carried, Vidal thinks. Workers know the surroundings. Passing by other nests, they walk in a straight line to a nest that they have selected. Often, they will deliver another gyne there later on.
Inhabitants of a preferred nest are no family, so the matchmakers select unrelated partners for their queen sisters. This behaviour is a new and surprising way to promote outbreeding, the researchers state.
Willy van Strien
Photo: Cardiocondyla elegans: worker carrying young queen. ©Mathilde Vidal
Sources:
Vidal, M., F. Königseder, J. Giehr, A. Schrempf, C. Lucas & J. Heinze, 2021. Worker ants promote outbreeding by transporting young queens to alien nests. Communications Biology 4: 515. Doi: 10.1038/s42003-021-02016-1
J-C. Lenoir, A. Schrempf, A. Lenoir, J. Heinze & J-L. Mercier, 2007. Genetic structure and reproductive strategy of the ant Cardiocondyla elegans: strictly monogynous nests invaded by unrelated sexuals. Molecular Ecology 16: 345-354. Doi: 10.1111/j.1365-294X.2006.03156.x