Woodcock feathers have the whitest white of all birds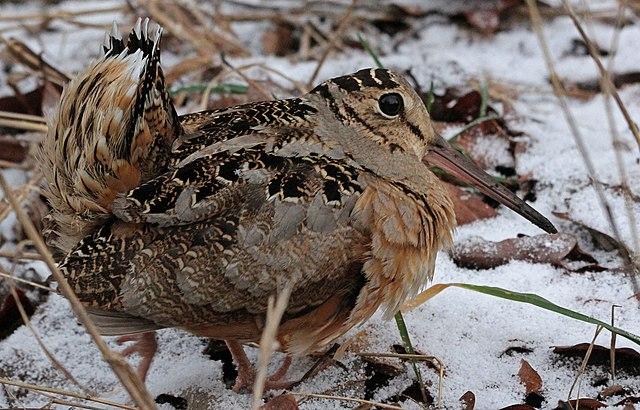 The whitest feathers that exist can be found in the woodcock, which otherwise has an inconspicuous appearance. Jamie Dunning and colleagues investigated how the surprisingly white hue emerges.
An Eurasian woodcock (Scolopax rusticola) is so well camouflaged that it hardly stands out against the forest floor on which it lives. But the tips of its tail feathers are brilliant white on the underside and therefore very visible, even in dim light. No plumage exist with patches that are whiter than those feather tips. Jamie Dunning and colleagues show how that super white hue is brought about by the structure of the tail feathers.
Woodcocks rest during the day, and then it is important not to stand out. Hence their mottled brown plumage. At dawn or dusk, they are active. To show themselves to each other, they raise their short tails or make a courtship flight. Then, the bright white tips on the underside of the tail feathers stand out clearly.
Nanostructure
Those white tail tips are conspicuous at dim light because they reflect much of the scarce light that falls on them. This is possible because of a special structure. A bird's feather consists of a shaft on which barbs are implanted. The barbs of the super-white feather tips of Eurasian woodcocks are flattened and thickened, and, like the slats of Venetian blinds, they are slanted and overlap. As a result, a maximal amount of light is reflected.
But before the light rays bounce back, they are scattered beneath the surface of the barbs. The barbs have a disordered internal structure of nanofibers and scattered air pockets, which causes incident light rays to change direction frequently and chaotically. This strong so-called diffuse reflection results in a bright white appearance, just as happens in snow.
The barbs are held together by the many Velcro-like barbules that branch from them. These are brownish, but because they are on the upper side of the tail feathers, they do not affect the whiteness of the underside.
The Eurasian woodcock lives in Europe and Asia. There are seven other woodcock species worldwide, all with super white tops at the underside of the tail feathers. Other birds don't possess such white feather patches, not even species that are closely related to woodcocks, such as common snipe (Gallinago gallinago).
Willy van Strien
Photo: American woodcock, Scolopax minor, with raised tail. Matt Schenck (Wikimedia Commons, Creative Commons CC BY 4.0)
See also: super black feathers also exist
Source:
Dunning, J., A. Patil, L. D'Alba, A.L. Bond, G. Debruyn, A. Dhinojwala, M. Shawkey & L. Jenni, 2023. How woodcocks produce the most brilliant white plumage patches among the birds. Interface 20: 20220920. Doi: 10.1098/rsif.2022.0920