Father teaches young bird how to travel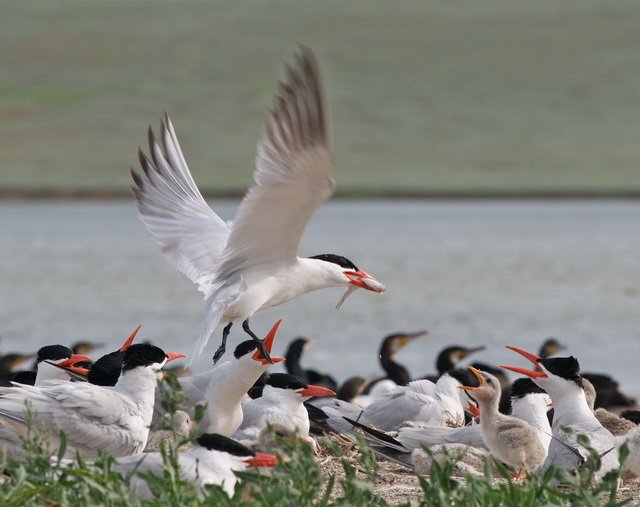 Young Caspian terns learn from their father how to migrate to the wintering grounds. When, in following years, they make that autumn trip independently, they remember their fathers' lesson, Patrik Byholm and colleagues show.
A young Caspian tern that is born at the end of May along the coast of Finland or Sweden, will migrate to West Africa at the end of summer to hibernate there. Its father's job is to guide it on that first journey, Patrik Byholm and colleagues noted.
The researchers wanted to know how information about autumn migration – route and stopover sites – is passed on from one generation to the next. To find out, they equipped birds with GPS tracking devices.
The Caspian tern, Hydroprogne caspia, is found in many places in the world. In Europe, it also breeds along the Black Sea and the Caspian Sea, and in North America along ocean coasts and the great lakes. Some birds from Finland and Sweden make a stop in the Netherlands during their migration to Africa. They travel singly or in small family groups, which are single-parent families.
Reduced tempo
The collected travel data shows that couples that started a nest with two or three eggs in spring and raised their young together, leave each other after the breeding season. They travel separately, sometimes weeks apart, to the wintering area.
Young birds travel with one of the parents, and mostly, that is the father. They cannot travel safely on their own: young terns that for one reason or another lose contact with parents, are captured by birds of prey. So, they stay close to their father during the trip. He teaches them the route and knows good stopover sites, where the birds can roost and forage during the migration. The lesson is learned: the young birds will follow the same route southwards in the years that follow, using the same stopover sites.
Fathers that accompany one or a few young, will adjust their tempo a bit. They progress less quickly than adult birds traveling alone. This is mainly because young birds take more time to rest.
After arrival, the bond between father and young loosens and parental care finishes. They gradually spend less time without each other, and after a month or two they stop seeing each other at all. Sometimes, a young travels a little further south, in the company of another congener.
Willy van Strien
Photo: Colony of Caspian tern. Dmitry Mikhirev (Wikimedia Commons, Creative Commons CC BY-SA 3.0)
Source:
Byholm, P., M. Beal, N. Isaksson, U. Lötberg & S. Åkesson, 2022. Paternal transmission of migration knowledge in a long-distance bird migrant. Nature Communications 13: 1566. Doi: 10.1038/s41467-022-29300-w