Cloud of semiautonomous pincers protects sea urchin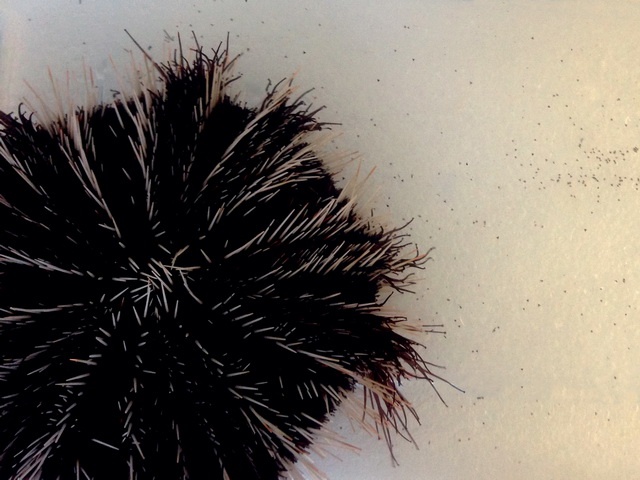 When a hungry fish approaches, the collector sea urchin releases a cloud of small biting, venomous pincers that deter its enemy before it has attacked. This peculiar defensive strategy is revealed by Hannah Sheppard-Brennand and colleagues.
In addition to their prominent spines, sea urchins and sea stars possess numerous smaller appendages as well: little pincer-like heads on a movable stalk, called pedicellariae. The pincers have different functions, such as catching food or removing debris – and tormenting predators. For in spite of the unattractive appearance that sea urchins and sea stars have, predators such as fish will pick at their tube feet and other soft tissue. Some species have pedicellariae with teethed jaws and a venom sac to deal with such predators, and anyone who once stepped on such a sea urchin will remember the painful experience.
Cloud
One species, the collector sea urchin Tripneustes gratilla, deploys these venomous pedicellariae in an unique way, as Hannah Sheppard-Brennand and colleagues show: when harassed, this sea urchin will release a cloud of them in the surrounding water. Upon release, the pincer-like heads behave semi autonomously; they are mobile, have sensory structures and will bite and deliver their venom when they touch a supposed enemy.
Safe
Fish are deterred by such a swarm, as lab experiments revealed, and they will leave before they have bitten the sea urchin. Protected by his unique defensive army, the collector sea urchin is able to forage safely on grass and eelgrass during the day, when other sea urchin species have to take shelter, as well as during the night.
Willy van Strien
Photo:
Collector sea urchin Tripneustes gratilla with a cloud of released pedicellaria heads. © Hannah Sheppard Brennand
Source:
Sheppard-Brennand, H., A.G.B. Poore & S.A. Dworjanyn, 2017. A waterborne pursuit-deterrent signal deployed by a sea urchin. The American Naturalist 189, online March 27. Doi: 10.1086/691437