Fish with venomous fangs have many imitators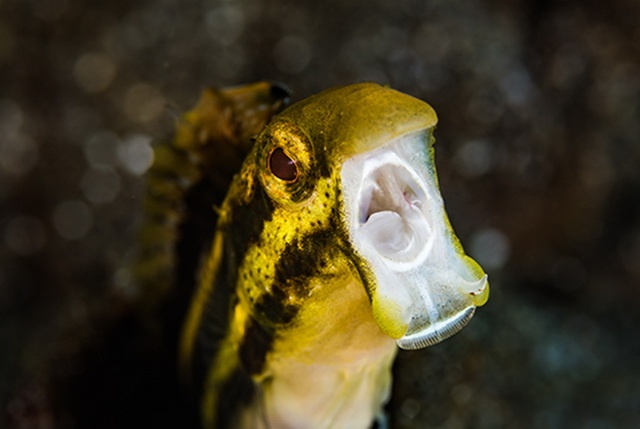 Meiacanthus fish species are armed with venomous fangs that deter predators. Many nonvenomous fish species protect themselves from being attacked by mimicking the aposematic colours and the behaviour of Meiacanthus species. A large research team unravelled the evolution of the venomous fish.
A predator fish expecting to easily ingest a small Meiacanthus fish will prove to be wrong. This prey is armed with sharp teeth that inject venom into its enemy. Disoriented, the predator will release its victim – and will not go after the same fish anymore.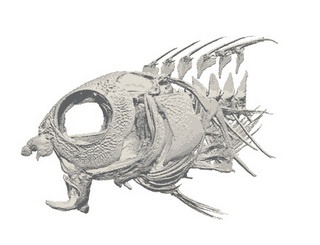 Meiacanthus species are the only fish with venomous fangs. They belong to the group of the saber-toothed blennies or fangblennies (Nemophini), which all have a pair of enlarged, hollow canines in the lower jaw. Nicholas Casewell, together with a large research team, has shown that these fangs must have originated in the common ancestor of these blennies. But only species of the genus Meiacanthus developed venomous fangs. They possess venom glands at the base of the fangs and grooves on the fangs to deliver the venom into the wound.
According to the researchers, the venom does not cause pain upon injection, but it reduces the blood pressure in the predator, which becomes weakened and disoriented so that the prey can escape unharmed from its mouth. Blood pressure reduction appears to be such a bad experience that the predator fish will never try to ingest a Meiacanthus again. The venom was found to contain three compounds that had never been found in fish before.
Protection
Some non-venomous fangblennies, as well as many fish species from other groups, profit from the aversion that predators have to Meiacanthus species by looking the same and behaving the same. While not mounting a defence against predators themselves, they are still protected from attacks thanks to this mimicry.
What do non-venomous fangblennies use their fangs for? To eat, probably. This holds at least for all Plagiotremus species, which feed on dermal tissue, scales, mucus, and fins of larger fish. If they look like Meiacanthus species, they can easily approach their victims, which are reluctant to attack.
Willy van Strien
Photo:
Petroscirtes breviceps, with nonvenomous fangs in the lower jaw. ©Alex Ribeiro
CT-scan of the venomous species Meiacanthus grammistes. ©Anthony Romilio (University of Queensland, Australia)
Source:
Casewell, N.R., J.C. Visser, K. Baumann, J. Dobson, H. Han, S. Kuruppu, M. Morgan, A. Romilio, V. Weisbecker, S.A. Ali, J. Debono, I. Koludarov, I.Que, G.C. Bird, G.M. Cooke, A. Nouwens, W.C. Hodgson, S.C. Wagstaff, K.L. Cheney, I. Vetter, L. van der Weerd, M.K. Richardson & B.G. Fry, 2017. The evolution of fangs, venom, and mimicry systems in blenny fishes. Current Biology, March 30 online. Doi: 10.1016/j.cub.2017.02.067