Greater mouse-eared bat mimics the sound of bees and wasps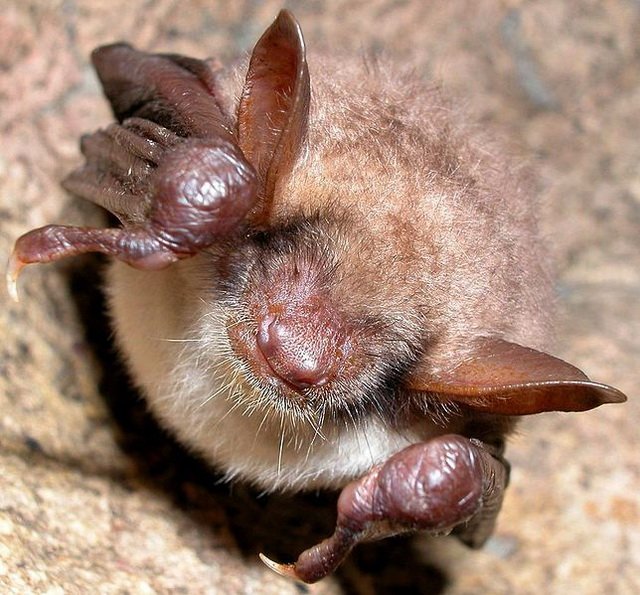 Owls avoid the buzzes of angry bees and wasps. The greater mouse-eared bat takes advantage of that fear by mimicking the sound, Leonardo Ancillotto and colleagues show.
A greater mouse-eared bat in stress behaves weird: it buzzes like a startled group of bees or wasps. Leonardo Ancillotto and colleagues noticed this when they handled the animals during their research. They wondered whether the bats mimic the sound of alarmed bees and wasps when they feel threatened by a potential predator to deter it. It was worth a study.
The greater mouse-eared bat, Myotis myotis, occurs in most European countries. Its enemies are owls, which are nocturnal like the bats.
Larynx
To find out, the researchers first analysed sound recordings of buzzing bats and compared that to the buzzing sounds that several species of bees and wasps produce when they are harassed and defend their nests. Among those species were honeybee (Apis mellifera) and hornet (Vespa crabro). And yes: the buzzing sounds were similar, especially to the ears of an owl.
The similarity is remarkable because the sound is created in different ways. Bees and wasps buzz by beating their wings, while bats produce the sound with the larynx.
Next, the researchers conducted playback experiments in which they broadcasted the buzzing sounds of honeybee, hornet or greater mouse-eared bat to a number of barn owls and tawny owls. The buzzing of the bat was most similar to that of honeybee and hornet. In addition, these insects live in tree cavities, in which owls are interested. As control, they broadcasted the communication calls of another bat species, the European free-tailed bat (Tadarida teniotis).
Experience
The owls moved away from loudspeakers that emitted buzzes, whether these were produced by honeybee, hornet, or greater mouse-eared bat. Bat communication calls, in contrast, attracted them. Wild owls, which may have encountered angry bees or wasps and suffered painful stings, were even more averse to buzzing sounds than owls that had been raised in captivity.
Does it make sense that owls, which are nocturnal animals, are afraid of bees and wasps, which are active during the day? Yes, that fear is conceivable. Honeybees fly until late evening in summer and hornets may fly at night, under moonlight or artificial light. Barn owls appear already at dusk, and when they have hungry young to feed, tawny owls sometimes even hunt during the day.
Apparently, the owls are afraid of bees and wasps and the bats delude them. Buzzing like bees or wasps, acoustic mimicry, may be all they can do to escape from their predator.
Willy van Strien
Photo: Greater mouse-eared bat. Kovács Richárd (Wikimedia Commons, Creative Commons CC BY-SA 3.0)
Source:
Ancillotto, L., D. Pafundi, F. Cappa, G. Chaverri, M. Gamba, R. Cervo & D. Russo, 2022. Bats mimic hymenopteran insect sounds to deter predators. Current Biology 32: R408-R409. Doi: 10.1016/j.cub.2022.03.052