Pollinators are deceived by flower mimicking crab spider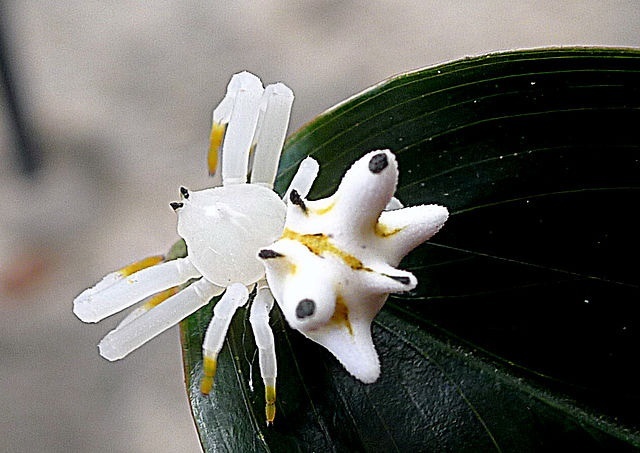 The spider Epicadus heterogaster is coloured strikingly like a flower, and bees are lured by the colour to become prey, as Camila Vieira and colleagues show. Its masquerade is completed by a conspicuous abdomen, mimicking a flower's shape.
The crab spider Epicadus heterogaster, which lives in Brazil, always seems to be dressed in a carnival costume that makes it look like a flower: it has a white, yellow or purple body colour and conspicuous abdominal protuberances. By mimicking a flower, it attracts insects that use to visit flowers to collect nectar, meanwhile pollinating the flowers. All it has to do next, is extend its legs and grab the victims – and the pollinators become prey.
Now, Camila Vieira and colleagues present proof that the crab spider's colour attracts pollinators.
Sunscreen
Like many flowers, Epicadus heterogaster has an ultraviolet component in its body colour. We cannot see that colour, but insects do and some insects prefer it. The spider's colour stands out clearly against the green leaves on which she awaits her visitors.
In order to demonstrate that the spiders' colour indeed lures insects, the researchers treated anesthetized females with sunscreen that blocks ultraviolet light. When they applied the sunscreen on a female's back, passing pollinators no longer saw an ultraviolet colour and didn't approach the spider; in contrast, they avoided it. But when the sunscreen was applied not on the dorsal side, but on the ventral side of a spider, it remained attractive to pollinators. Its flowerlike appearance undoubtedly  contributes to the deceit.
Inconspicuous
Juvenile female spiders are coloured like adults, also mimicking a flower, but they exploit their disguise in another manner. They're not sitting on a leaf to attract pollinators, as they are too small to be of any interest to them anyway, and by being conspicuous, they would attract predators. Instead, youngsters are observed mostly on flowers, where they are perfectly camouflaged.
Willy van Strien
Photo: Alex Popovkin (Wikimedia Commons, Creative Commons CC BY 2.0)
Epicadus heterogaster on YouTube
Source:
Vieira, C., E.N. Ramires, J. Vasconcellos-Neto, R.J. Poppi & G.Q. Romero, 2017. Crab spider lures prey in flowerless neighborhoods. Scientific Reports 7: 9188. Doi: 10.1038/s41598-017-09456-y