Female cuckoo chuckle call is embarrassing for songbirds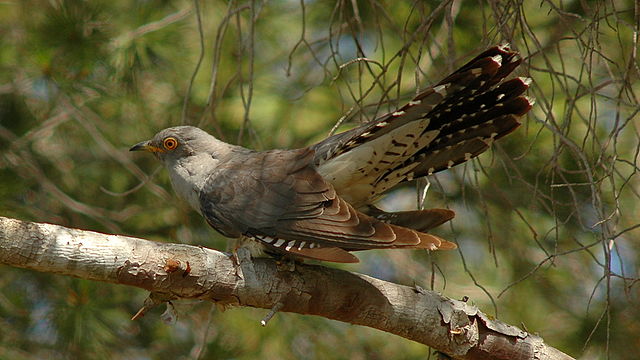 By first laying her egg secretively and then giving a loud chuckle call while leaving, a female cuckoo doesn't seem to behave in a consistent way. But her call adds to her trickery, as Jennie York and Nicholas Davis show.
A female common cuckoo that lays an egg in the nest of a songbird, for instance a reed warbler, behaves as secretly as she can, because if the intended foster parents detect her presence, they will chase her away; and if she has laid her egg already, the parents will either try to eject it or leave their clutch to start a new one somewhere else. With a cuckoo young in the nest, their own young cannot survive. So, a cuckoo visits the nest and quickly dumps her egg when the owners are away, mostly within a minute.
Vigilant
But while she tries to be unseen when laying, she gives a conspicuous chuckle call when flying away afterwards – quite different from the 'cuck-oo' call of the male. This seems paradoxical, as the songbirds may notice her presence after all. Why is she seeking their attention now? Jennie York en Nick Davis answer this question.
They reasoned that a calling female cuckoo may be mimicking the call of a sparrowhawk, to which it is quite similar. If the parents hear that sound, they are concerned about their safety. They become vigilant and scan the surroundings to detect the predator, and their attention is diverted away from their clutch. If they perceive a foreign egg in the clutch, they respond in the same way as when they have seen a female cuckoo on their nest: they try to eject the foreign egg or leave the clutch. But when worrying about their own safety, they will pay less attention to their clutch and may overlook a foreign egg.
Less attention
York and Davis could demonstrate that this idea is right. A few meters from reed warblers' nests, they placed speakers and play backed the call of a male cuckoo, the call of a female cuckoo, the call of an Eurasian sparrowhawk, or the call of an Eurasian collared dove, a harmless bird; they recorded the songbirds' responses. The results are clear: the sound of a male cuckoo or a dove elicited no response, while the call of a sparrowhawk provoked vigilance – as did the call of a female cuckoo. So, it appears that indeed a female cuckoo vocally mimics a sparrowhawk. Also great tits and blue tits, which are not exploited by cuckoos as foster parents for their young, get alarmed by the female cuckoo's chuckle.
After such a frightening experience, reed warblers pay less attention to their clutch, as further experiments revealed. When the researchers exposed the reed warblers to the calls again, put a foreign egg in the nests and checked the nests afterwards to see whether this egg was accepted or rejected, they discovered that parents that had been exposed to the call of a sparrowhawk or a female cuckoo were less likely to notice the foreign egg than birds that had heard a male cuckoo or a collared dove.
So, a chuckling female cuckoo deceits the foster parents twice, first by secretly laying her egg and then by vocally mimicking a sparrowhawk, tricking the victims into defending themselves instead of their clutch, while in fact the clutch is in danger.
Willy van Strien
Photo: Trebol-a (Wikimedia Commons, Creative Commons CC BY-SA 3.0)
Source:
York, J.E. & N.B. Davies, 2017. Female cuckoo calls misdirect host defences towards the wrong enemy. Nature Ecology & Evolution, online September 4. Doi: 10.1038/s41559-017-0279-3