Crab spider imitates fresh bird's poo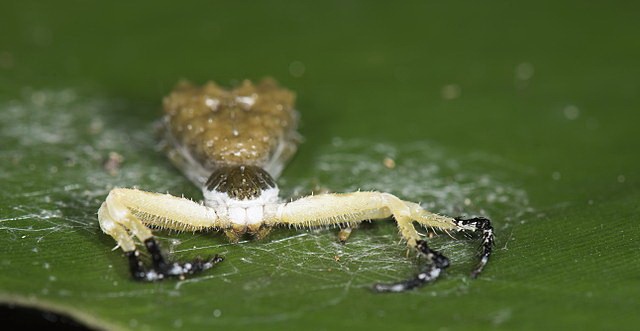 It looks like bird dropping, it smells like bird dropping. But it is the bird-dung crab spider Phrynarachne ceylonica, waiting until an unsuspecting fly comes close, as Long Yu and colleagues show.
Crab spiders get their meals by sitting motionless and waiting for a prey to come within range. Then they may strike suddenly. It helps if they don't look like a spider while they sit-and-wait, but are disguised. The bird-dung crab spider Phrynarachne ceylonica, for example, successfully mimics a moist bird's dropping, Long Yu and colleagues write.
The spider not only looks like bird poo, but it also smells like it. It was already known to mislead its predators, such as larger jumping spiders, which simply don't recognize it.
The spiders occurs in Sri Lanka, China, Japan, and Taiwan.
Leaf miner flies
Now this masquerade proves doubly useful. The sneaky spider attracts tasty insects, mainly leaf miner flies (agromyzids), as Yu notes after observing several juvenile and female crab spiders in the field. The larvae of these flies feed on plant tissue, but adults have a different diet, and to them, fresh bird droppings are a favourite source of nutrients.
Yu painted several spiders entirely white or black, and these painted spiders did not attract the flies.
As he shows, the bird-dung crab spider Phrynarachne ceylonica has the same colours as fresh bird droppings to the eyes of insects. Spinning some threads, the spider mimics a dehydrated edge. And it works out well: insects land right next to the spider. The spider attracts prey at a lower rate than a real bird's dropping, but that isn't much of a problem if it is satiated after only one meal.
Unfortunately, the researchers do not report whether the crab spiders do indeed capture and consume the leaf miner flies.
Willy van Strien
Photo: LiCheng Shih (Wikimedia Commons, Creative Commons CC BY 2.0)
Another crab spider mimics a flower
Source:
Yu, L., X. Xu, Z. Zhang, C.J. Painting, X. Yang & D. Li, 2021. Masquerading predators deceive prey by aggressively mimicking bird droppings in a crab spider. Current Zoology, online July 24. Doi: 10.1093/cz/zoab060