Superb lyrebird male tries to prolong a female's visit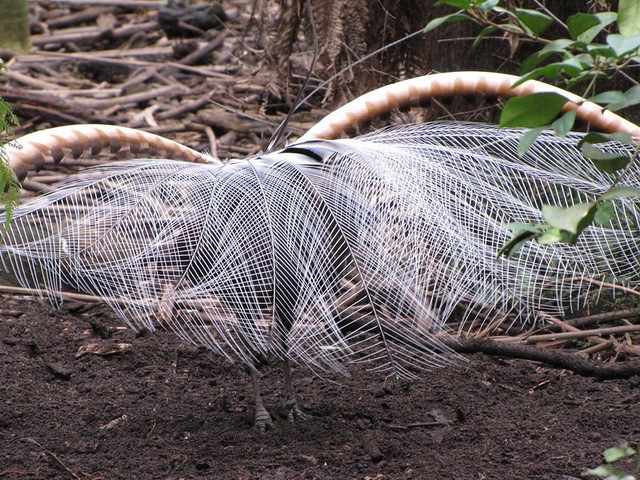 A male superb lyrebird can deceive a female into believing that danger is imminent, Anastasia Dalziell and colleagues think. This increases the chance that she will stay for a while and copulation ensues.
Superb lyrebirds are masters of imitating all possible sounds, and males make clever use of that talent. When a female pays a visit, a male imitates the sound of a flock of alarmed songbirds, creating the illusion that a predator is nearby, Anastasia Dalziell and colleagues write. Then she might stay a little longer than she really wanted.
The superb lyrebird (Menura novaehollandiae), one of the largest passerine species, lives in the forests of South East Australia. Males and females do not form breeding pairs; each bird lives in its own territory. Females have one young per year, which they raise on their own.
Just watching
During the breeding season, males make themselves as attractive as possible. They construct mounds in their territory, where they sing their songs. Sometimes they sing a special song accompanied by a dance according to fixed rules, as Dalziell described earlier, throwing their decorative tail feathers over their body and head.
The purpose of a male's show, of course, is to attract females and get them to copulate, because every mating can result in a young that he sires. Females visit several males before making their choice. As a result, a female may come to watch a displaying male, but refrain from mating with him in the end.
That is not what he intended.
Illusion of danger
When she is about to leave without copulating, he adds a new element to his song, which is remarkably similar to the sound of a flock of aroused songbirds.
Small songbirds get aroused when they detect a predator, such as a snake, large lizard, roosting owl, or perched hawk. They utter alarm calls to recruit others and harass the enemy together. The researchers show how accurately a male lyrebird mimics such mobbing flock of multiple simultaneously calling birds. Even the noise of beating wings is incorporated into his song. It is so accurate, that small songbirds are misled and approach to join.
The predators that arouse the small birds are dangerous for lyrebirds too. Therefore, the researchers hypothesize, the song creates the illusion that danger is imminent; the female is inclined to stay, and there is a chance that a copulation will happen.
Deception
A male superb lyrebird also utters this cacophony during mating. This job is not done in a few seconds, as it is other birds. Only after havng sat on her for more than half a minute, does he transfer his sperm. From the moment he mounts her until the end, he mimics the sound of a mobbing flock to prevent her from leaving too soon. During mating, he beats his wings in front of him, obscuring her view. She is unable then to assess whether it is safe to go, the authors suggest.
In conclusion, the superb lyrebird male uses his song not only to advertise his good health and condition, as is usual, but also to get a female to stay by giving a false signal of danger. That is deception.
Whether a female will stay longer because of the false alarm, the researchers don't know. To find out, they would have to do experiments, which would be difficult for this species.
Willy van Strien
Photo: Courting male, covered with his tail. Kim Edol (via Flickr, CC BY-NC-ND 2.0)
Anastasia Dalziell about her research on YouTube
Sources:
Dalziell, A.H., A.C. Maisey, R.D. Magrath & J.A. Welbergen, 2021. Male lyrebirds create a complex acoustic illusion of a mobbing flock during courtship and copulation. Current Biology, online February 25. Doi: 10.1016/j.cub.2021.02.003
Dalziell, A.H., R. A. Peters, A. Cockburn, A.D. Dorland, A.C. Maisey & R.D. Magrath, 2013. Dance choreography is coordinated with song repertoire in a complex avian display. Current Biology 23, 17 juni online. Doi: 10.1016/j.cub.2013.05.018