Orchid deceives pollinators, but still offers a reward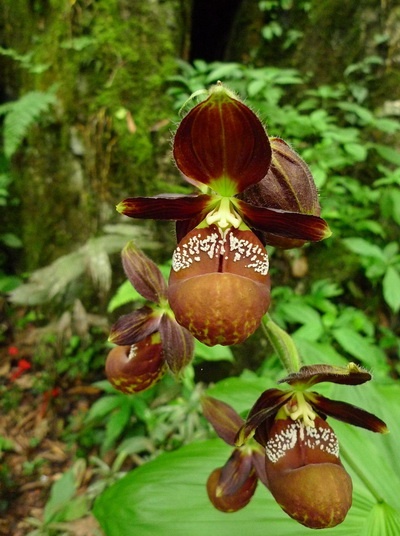 The orchid Cypripedium subtropicum lures hoverflies by mimicking an aphid colony covered with honeydew. The hoverflies fall into a trap and while struggling out, they pollinate the flower, as Hong Jiang and colleagues write.
Pollination normally follows the principle 'give a little, take a little'. Pollinators, such as bees, butterflies and flies, drink nectar from flowers, and through their visits they transfer pollen from one flower to another. A delicacy in exchange for pollen transport.
However, not all plants play a fair game. Some orchids, for instance, mimic a female wasp to attract male wasps. The males fruitlessly attempt to mate and while moving, they pick up or deposit pollen. Such deceptive flowers lure insects with false promises and make use of their services without paying a reward. On the contrary: a deceived male is just wasting its time.
Now, Hong Jiang and colleagues describe another form of deceit in  Cypripedium subtropicum, an orchid species that grows in mountain forests in southwest China, Tibet and north Vietnam and that is pollinated by hoverflies. It promises its visitors not a mate, but food. Peculiarly, cheated insects do receive a reward from the plant – albeit an unusual one.
Aphid colony
The flowers of Cypripedium subtropicum are dark brown and have an enlarged labellum that has the shape of a pouch and is speckled with white hair tufts. In the eyes of hoverflies, the researchers think, the whole looks like an aphid colony covered with honeydew. And that's what hoverflies are fond of. Honeydew is a sweet and sticky substance secreted by aphids because the sap they suck from plants contains an excess of sugars. Experiments showed that hoverflies don't land on orchids that have their white hair tufts removed.
But the imitation goes further. The flowers also smell like an aphid colony: they emit an odour similar to that of alarm pheromones that aphids use to warn each other when danger is imminent.
And to finish it off, the white hair tufts are nutritious and contain a high amount of sugar – just like honeydew. Cypripedium subtropicum mimics the colour, smell and taste of an aphid colony.
Narrow way out
But when hoverflies enjoy the sweet food, it becomes clear that the orchid uses a trick to be pollinated. The labellum has an opening between the white hair tufts. At some moment while eating, a hoverfly will fall into the hole. Crawling back through the opening is impossible because of the curved margin. The animal is trapped.
The only way out is a narrow cleft at the top of the back of the pouch, through which the hoverfly can scramble out. It will first pass the flower's pistil and then the stamens. When it squeezes along the stamens, a smear of pollen will attach on its back. And if it is trapped again during the next flower visit and tries to escape, it will deposit that pollen on the pistil. Subsequently, it picks up a new dose of pollen.
Cypripedium subtropicum forces hoverflies to pollinate it by trapping them, but at least they get an edible reward in return. The promise is not entirely false in this case.
Willy van Strien
Photo: ©Hong Jiang
Source:
Jiang, H., J-J. Kong, H-C. Chen, Z-Y. Xiang, W-P. Zhang, Z-D. Han, P-C. Liao & Y-i Lee, 2020. Cypripedium subtropicum (Orchidaceae) employs aphid colony mimicry to attract hoverfly (Syrphidae) pollinators. New Phytologist, online April 26. Doi: 10.1111/nph.16623