Wild bees can do without flowers – for a while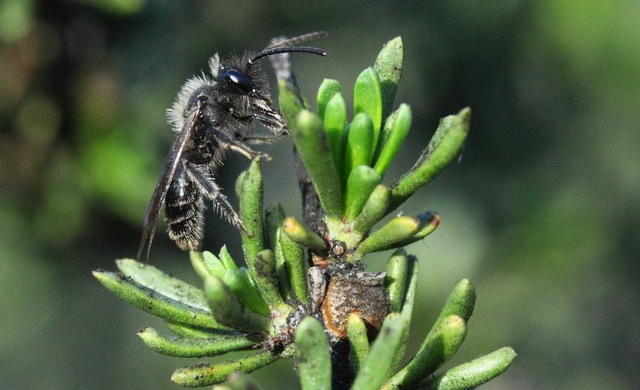 When spring arrives in California, wild bees emerge before flowers appear that offer nectar, providing the animals with energy. To survive, they temporarily use sugary honeydew, as Joan Meiners and colleagues discovered.
It seems weird for bees to visit non-flowering shrubs, because they need flowers to find nectar, which contains sugars, and pollen, which contains protein; these nutrients are necessary for themselves and their larvae. Yet, in the Pinnacles National Park in California, Joan Meiners observed many wild bees of different species visiting shrubs on which no flower was to be found.
Honeydew
With a series of experiments, she and her colleagues found out what the bees were looking for at the non-flowering shrubs: the animals were accessing sugary honeydew, the sweet secretions of sap-feeding scale insects. It appeared that bees visit flowerless shrubs only early in the springtime, when they emerge while there are hardly any flowers blooming, and that all these bees belong to solitary species, not living in colonies where a stockpile of nectar is available. Apparently, in early spring honeydew is an alternative source of energy for these bees, a new discovery.
Now, the question is how the bees are able to find this alternative food source. They are specialists in detecting and distinguishing colours and scents. Flowers depend on bees for pollination, because as bees visit multiple flowers in succession, they transfer pollen from the stamens of one flower to the pistil of the next one, so that this second flower can grow seeds after fertilization. Because bees are indispensable, flowers attract them with showy scents, colours and shapes.
Still, bees manage to find the colourless, odourless honeydew as well.
Looking for food
Are they attracted by the black mold fungus that covers the honeydew? The researchers ruled out this possibility by painting a number of branches black: these branches were not visited by the bees. Do the scale insects form a clue to the honeydew? No, because if the sap-sucking insects were temporarily inactivated with a mild anti-insecticide, no bees were seen nearby; they only came when the scale insects were producing honeydew. But on the other hand, they did detect sticks on which the researchers had sprayed a sugar solution, and they did already within an hour.
The biologists propose that the bees are continuously looking for food, and if one bee locates some honeydew, other bees will notice and visit the food source as well.
Using honeydew as an extra source of energy, the bees can survive a period without nectar. But in the end they do need flowers, because the larvae cannot develop on a diet of sugars alone, but have to ingest a high amount of proteins, and therefore they need pollen. So, every female has to gather pollen for her offspring.
Once plants start flowering, bees lose their interest in honeydew-bearing shrubs and visit flowers instead. The mutual relationship between bees and flowers – where pollination is exchanged for food – is not jeopardized.
Willy van Strien
Photo: ©Paul G. Johnson
Source:
Meiners, J.M, T.L. Griswold, D.J. Harris & S.K.M. Ernest, 2017. Bees without flowers: before peak bloom, diverse native bees find insect-produced honeydew sugars. The American Naturalist, online May 30. Doi: 10.1086/692437