Brightly coloured frog is invisible against background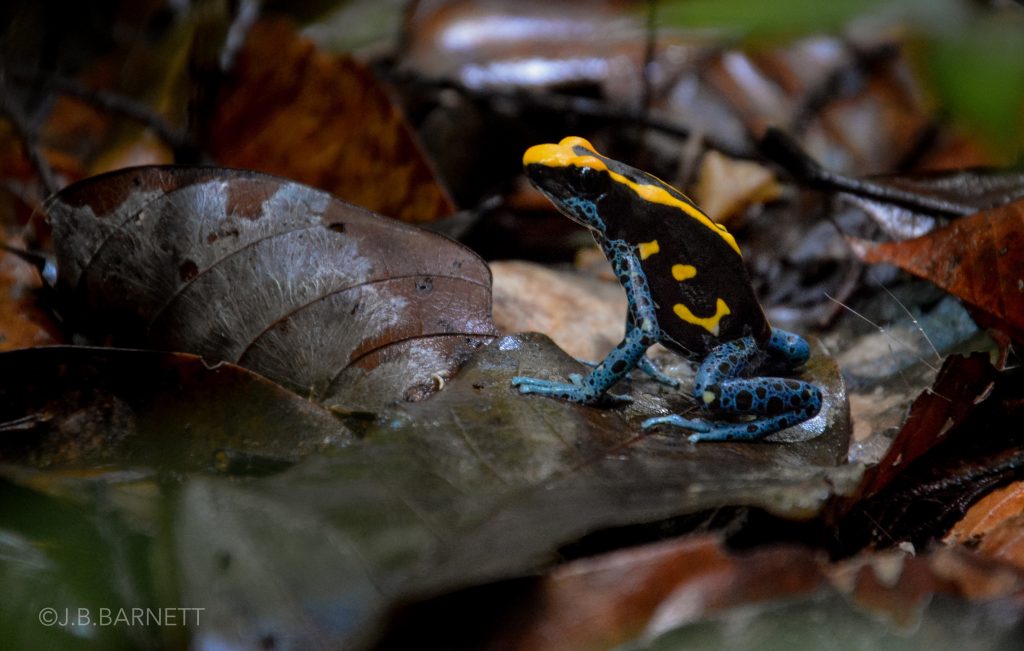 In spite of its bright colouration, predators have difficulty detecting the poison dart frog Dendrobates tinctorius from a distance, according to research by James Barnett and colleagues. The colourful animal turns out to have a cryptic colouration.
The bright colour patterns of poison dart frogs function as a warning signal to predators: don't eat me, I'm poisonous. Natural enemies learn that they'd better leave these colourful prey alone.
Yet, the striking appearance of these frogs does not offer them complete protection, as James Barnett and colleagues point out. An inexperienced predator that doesn't yet understand the message may attack and kill such frog. Moreover, some predators are insensitive to the poison, and others are so hungry that they ignore the warning and take the risk. So, a poison dart frog needs additional protection.
It has. Additional protection is provided by the same bright and distinctive colour pattern, which appears to function, surprisingly enough, as a cryptic colour that minimizes detectability. At least, this is the case in the poison dart frog Dendrobates tinctorius.
Camouflage
At close range, the frog clearly stands out against its natural background of leaf litter on the soil of rainforests in French Guiana, the researchers show, thanks to colours that are hardly found in that background: yellow and blue. The salient colouration is a clear signal.
But from a distance, things are different. Predators no longer are able to discern the pattern and the colours blend together to form an average hue that matches the background colour. So, the colouration turns out to function as distance-dependent camouflage; it makes the frog invisible to birds, snakes and mammals that are not at very close range.
Model frogs
That may be hard to believe, but experiments show that it really is like that. The researchers made frogs of plasticine (modelling clay) and gave their models either a natural colour pattern or painted it plain yellow or brown-and-black. They assembled different backgrounds: leaf litter, paper with a leaf litter print, bare soil and paper in a homogeneous colour. In the field, they put model frogs on different backgrounds and assessed how often wild avian predators attacked these models.
As expected, background had no effect on the number of attacks on yellow models, while brown-and-black animals were safer on leaf litter or paper with a leaf litter print than on other backgrounds.
And what about the frog models with a natural colouration?
Just like the brown-and-black animals, they had the best chance to remain undetected on a leaf litter background.
The bright colour pattern of the poison dart frog Dendrobates tinctorius thus has a dual function. At close range, it is a warning signal, while the colours blend to form a cryptic colour when viewed from a distance.
Willy van Strien
Photo: Dendrobates tinctorius. ©James B. Barnett
Source:
Barnett, J.B., C. Michalis, N.E. Scott-Samuel & I.C. Cuthill, 2018. Distance-dependent defensive coloration in the poison frog Dendrobates tinctorius, Dendrobatidae. PNAS, online June 4. Doi: 10.1073/pnas.1800826115