Fairytale light shows of Cypridinid ostracods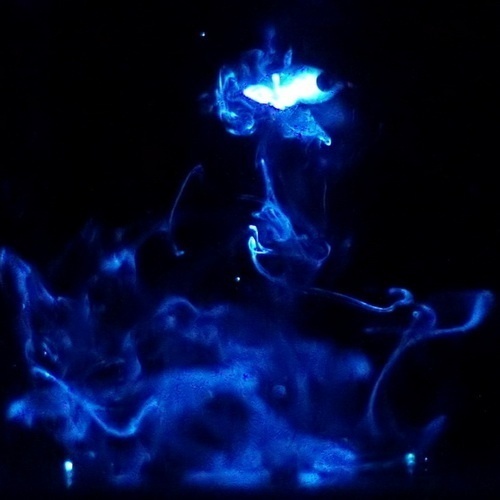 With an amazing show of light pulses, male cypridinid ostracods try to attract a mate. Each species has its own specific show program, with either very short lasting flashes or bulbs that glow for several seconds. Nicholai Hensley and colleagues examined the chemistry behind.
It looks like a fairytale scene: dozens of blue lights dancing in the dark waters of the Caribbean Sea. The spectacle is visible to those who dive or snorkel at the beginning of the night. The light artists are ostracods of the Cypridinidae family, tiny crustaceans (less than two millimeters long) with a carapax consisting of two valves, like a clam shell.
They are also known as sea fireflies. Nicholai Hensley and colleagues study their behaviour and the chemistry behind their light.
Slimeballs
Ostracods produce light by expelling mucus containing a reactant, vargulin, and the enzyme c-luciferase, which react with oxygen in seawater emitting blue light. The ostracods use their light mainly to avoid predation. If a fish picks up an ostracod, the prey will produce a cloud of blue mucus that is pumped into the water via the gills of the fish. It makes the fish visible to its own predators. Startled, it will spit out the bite.
In ostracods of the family Cypridinidae that live in the Caribbean Sea, males use the same light reaction in a much more subtle way with a completely different purpose: they place luminescent slimeballs in the water in order to seduce a female into a mating. This courtship behaviour produces the fairytale scenes.
Train of lights
The light artist best known is Photeros annecohenae, one of the most abundant species off the coast of Belize. In the first dark hour of the night, when the sun is down and the moon is not shining, groups of males display above seagrass beds. They have to perform well, because competition is high. While there are as many females as males, most are unavailable. This is because they incubate fertilized eggs in a brood pouch, and during this period, they will not mate.
American biologists examined male courtship behaviour in the lab, using infrared light. A displaying male will first swim in a looping pattern just above the tips of the seagrass blades and place about three bright flashes of light, probably to draw attention. Then, while spirally swimming upward, it places weaker light pulses at regular intervals. It swims at high speed, slowing down when it releases a luminescent slime ball.
By doing so, it creates a train of about twelve consecutively flashing lights that can be 60 centimetres long. When finished, it descends to start a new series. Often other males join and start displaying in synchrony.
Interception
To choose a mate, females assess the light pulses that the males produce. If a female is attracted to a particular male, she will swim to him without producing any light herself. Thanks to his regular flashing pattern, she manages to meet him just above his last light pulse. Mission accomplished.
Sometimes males try to obtain a mate without producing light themselves. Instead, they intercept a female that is on her way to a performing male.
Starting a show, following another male's show or sneaking to get a female are different tactics to acquire a mate and a male can easily switch among them.
Species-specific shows
In the Caribbean Sea, many other species of Cypridinidae also occur, and about ten species commonly live at the same place. Because they all have their own characteristic light show, a female has no difficulty finding a conspecific partner. The shows vary in the trajectory a courting male swims, the number of light pulses, the brightness of the light, the interpulse distance and time interval and the time that a pulse remains visible.
Romantic
Hensley investigated the cause of the variation in light pulse length. For although all species perform the same chemical reaction to make light pulses, the duration of the pulses varies greatly: some species, such as Photeros annecohenae, show flashes that last only a fraction of a second, others make light bulbs that continue to glow for 15 seconds.
The structure of the enzyme c-luciferase appears to vary between species, resulting in the light reaction to proceed faster in one species than in another. This determines how soon the light extinguishes. In addition, the reaction rate depends on the amount of vargulin compared to the amount of enzyme: the more vargulin, the longer it takes before it is all converted and the light disappears.
Courting males produce far less light than an animal that avoids predation. Romantic lights don't have to be that big and bright.
Willy van Strien
Photo: Luminous cloud around a fish that intended to consume an ostracod. It will spit it out. © Trevor Rivers & Nicholai Hensley
Fifteen-scaled worm emits light to defend itself in another way
Sources:
Hensley, N.M., E.A. Ellis, G.A. Gerrish, E. Torres, J.P. Frawley, T.H. Oakley & T.J. Rivers, 2019. Phenotypic evolution shaped by current enzyme function in the bioluminescent courtship signals of sea fireflies. Proceedings of the Royal Society B 286: 20182621. Doi: 10.1098/rspb.2018.2621
Rivers, T.J. & J.G. Morin, 2013. Female ostracods respond to and intercept artificial conspecific male luminescent courtship displays. Behavioral Ecology 24: 877–887. Doi: 10.1093/beheco/art022
Rivers, T.J. & J.G. Morin, 2012. The relative cost of using luminescence for sex and defense: light budgets in cypridinid ostracods. The Journal of Experimental Biology 215, 2860-2868. Doi: 10.1242/jeb.072017
Morin, J.G. & A.C. Cohen, 2010. It's all about sex: bioluminescent courtship displays, morphological variation and sexual selection in two new genera of Caribbean ostracodes. Journal of Crustacean Biology 30: 56-67. Doi: 10.1651/09-3170.1
Rivers, T.J. & J.G. Morin, 2009. Plasticity of male mating behaviour in a marine bioluminescent ostracod in both time and space. Animal Behaviour 78: 723-734. Doi: 10.1016/j.anbehav.2009.06.020
Rivers, T.J. & J.G. Morin, 2008. Complex sexual courtship displays by luminescent male marine ostracods. The Journal of Experimental Biology 211: 2252-2262. Doi: 10.1242/jeb.011130