Scale worm deceives its enemy by detaching glowing scales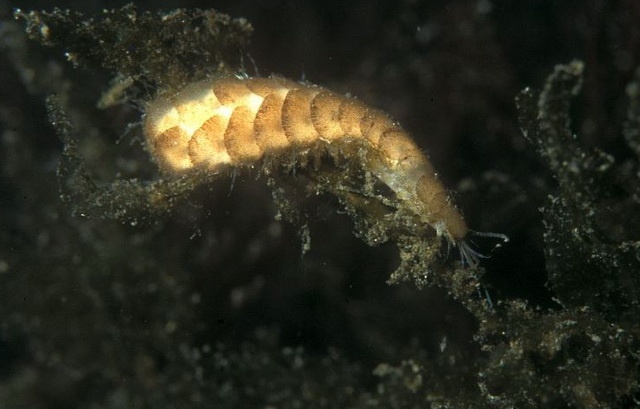 If the fifteen-scaled worm is attacked by a lobster, green lights appear in the water. They are scales and tail segments that the worm released to escape, as Julia Livermore and colleagues show.
It is a cheerful sight: animals that emit light, such as fireflies. In marine habitats, this sight is much more common than on land, because most light artists live in dark water. They use their light to defend themselves against predators or to lure prey, or they perform a light show to seduce a partner.
The fifteen-scaled worm, Harmothoe imbricata, uses its light for defence, Julia Livermore and colleagues write. The worm, three to six centimetres in length, occurs everywhere on the northern hemisphere, from the inter-tidal zone to a depth of a few kilometres. On its back it carries fifteen pairs of disc-shaped scales for protection, which flash green light when the worm is irritated. It can also detach the scales, upon which they float through the water as little lights for some time. If it is in great danger, it also releases its posterior body segments, which then also emit light.
Deceived
The researchers show how this behaviour enables the worm to actually escape from its predators, crabs and lobsters. They brought worms into the lab and conducted experiments in which they exposed a worm to the American lobster, Homarus americanus, or the green shore crab, Carcinus maenas; a refuge for the worm to hide was provided.
If an enemy approaches, a worm sometimes tries to slowly swim away unseen. If that fails, its scales will flash and / or the worm detaches scales and sometimes also segments of its tail, which then emit light. Because of the movements of the animals, the parts will swirl in the water. The predator is deceived: it goes after the lights and grabs them – and it will eat the dropped scales and tail segments.
In the meantime, the worm gets a chance to safely escape, as it turns out. Especially when it drops tail segments, its chance of survival is high. The swirling lights therefore function as an effective defence, but also an expensive one: the worm sacrifices protective scales and sometimes also a piece of its tail. That will regenerate, but it takes a while: a few days for the scales, a few weeks for the tail. But the sacrifice may save its life.
Willy van Strien
Photo: Harmothoe impar, a scale worm that is closely related to Harmorhoe imbricata. Saxifraga-Eric Gibcus
The researchers filmed experiments with a crab predator
A flashlight fish uses light to lure prey
Sources:
Livermore, J., T. Perreault & T. Rivers, 2018. Luminescent defensive behaviors or polynoid polychaete worms to natural predators. Marine Biology 165: 149. Doi: 10.1007 / s00227-018-3403-2
Verdes, A. & D.F. Gruber, 2017. Glowing worms: biological, chemical, functional diversity or bioluminescent Annelids. Integrative and Comparative Biology 57: 18-32. Doi: 10.1093 / icb / icx017
Plyuscheva, M. & D. Martin, 2009. On the morphology of elytra as luminescent organs in scale worms (Polychaeta, Polynoidae). Zoosymposia 2: 379-389. Doi: 10.11646 / zoosymposia.2.1.26