Female Egyptian fruit bat selects male that shared its food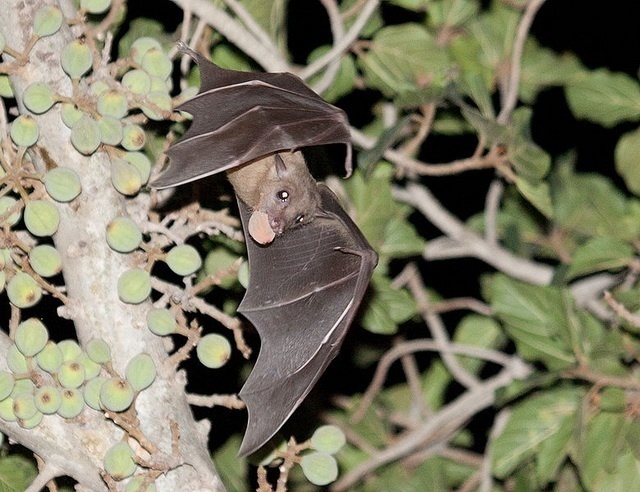 In Egyptian fruit bat, a fruit-eating mammal, males take the initiative to mate, but females determine whether mating occurs. They strongly prefer a friend that often offered them food, Lee Harten and colleagues write.
Bats are social animals, and so is the Egyptian fruit bat (Rousettus aegyptiacus), which occurs in Africa and the Middle East. The fruit-eating mammals live in large colonies of up to thousands of specimens. Individuals within a group maintain friendship bonds with a few others, meaning that they share food.
Lee Harten and colleagues previously reported that the animals have two ways to obtain food. A risky way is to get fruit from a tree on their own. When a bat lands in a tree to collect food, it runs the risk of being caught by a predator, such as a snake or a cat. Therefore, the bats forage high in the trees. And when a fruit tree has thin foliage, they fly with their catch to a safe place to consume it.
There is also a funky method that the bats often use. If a colony mate holds a fruit in its mouth, they approach it and try to steal it. The bat that has obtained the fruit may respond aggressively, but sometimes it will have its catch scrounged.
Faint-hearted
Individuals differ in their strategy. Some usually pick their own fruit, while others are more likely to try to scrounge it. The scroungers are more anxious. They are afraid to land on a place with food, and if they do, they are so vigilant that most times, they will not be able to pick any fruit. For faint-hearted bats, scrounging from others is the better option.
Often scroungers don't approach any arbitrary colony member, but they have one or two partners that they regularly approach, and that tolerate it. So, a network of affiliations exists.
Overall, Egyptian fruit bat males and females use different strategies. Males are more likely to collect fruit on their own than to scrounge, while for females it is the other way around. Only during lactation – a female produces one pup once or twice a year – they shift to collecting food on their own; they then need extra energy. Outside that period, they prefer to scrounge, each from its own set of favorite males.
Reciprocity
Now, Harten shows that those relationships have big consequences. In his lab, he kept a colony of wild-born Egyptian fruit bats, fifteen males, ten females and the young that were born in the lab. Genetic paternity analysis of the pups showed that in most cases, the father was one of the males that the mother preferred to get food from. The transfer of food from father to mother had been most intensive in the period just before pregnancy.
It is not a direct exchange of food for sex, because not all food-sharing bonds result in a descendant. But by tolerating a few females to prig food, a male has a chance to sire offspring later. Although a male takes the initiative to mate, a female decides whether or not to accept it. If she does, the male gets something in return for its generosity. Such delayed reciprocity is probably an explanation, but maybe not the only one, that the animals share food with some others.
Each male has a number of regular scroungers and a chance to produce a young with one of them. The relationships persist during a breeding season, but when a new period starts, females select another male to sire their young.
Willy van Strien
Photo: Egyptian fruit bat with fig. Artemy Voikhansky (Wikimedia Commons, Creative Commons CC BY-SA 3.0)
Sources:
Harten, L., Y. Prat, S.B. Cohen, R. Dor & Y. Yovel, 2019. Food for sex in bats revealed as producer males reproduce with scrounging females. Current Biology, online May 23. Doi: 10.1016/j.cub.2019.04.066
Harten, L., Y. Matalon, N. Galli, H. Navon, R. Dor & Y. Yovel, 2018. Persistent producer-scrounger relationships in bats. Science Advances 4: e1603293. Doi: 10.1126/sciadv.1603293