Jumping spider males have two ways to approach cannibalistic females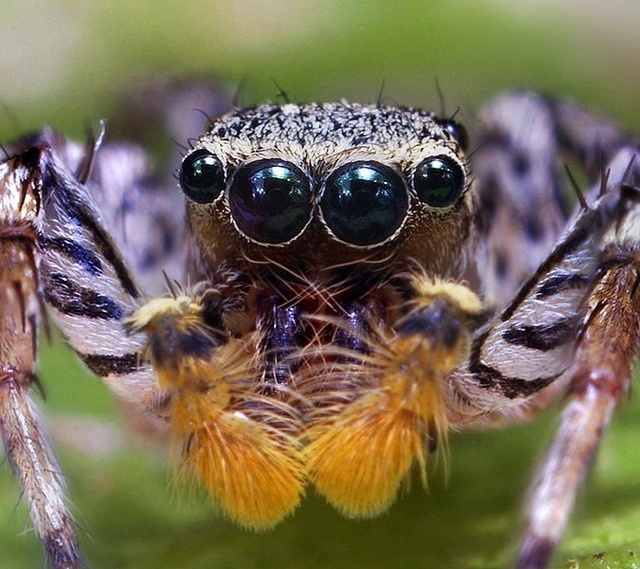 The jumping spider Maevia inclemens is peculiar by having two types of males. They look different and they behave differently. Why would that be? The morphs have developed alternative strategies to reproduce safely, Laurel Lietzenmayer and colleagues think.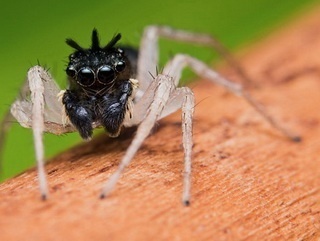 In the North American jumping spider Maevia inclemens, two types of males exist that differ so much, that they seem to be different species. Some males are black with pale legs and have three tufts of setae on their head, a bit like a cross-positioned mohawk. Other males have black-and-white striped legs and orange pedipalps (the 'boxing gloves').
So, females have the opportunity to choose between a punker and a male in a stripe suit. But the ladies are not choosy at all: they respond to the first male they happen to see.
The difference in appearance is linked to a different courtship behaviour. According to Laurel Lietzenmayer and colleagues, alternative strategies to reproduce are behind the differences, each male type being successful in its own way.
Signaling quality
The males face a difficult problem. To be able to reproduce, they must attract the attention of a female. But Maevia inclemens is a predatory species, and males are potential prey for females. Therefore, a male must manage to elicit a female's mating behaviour – and not her appetite.
The tufted male will stay at a safe distance if he aims to mate a female, about 9 centimetres; the males are only half an inch in length, females are slightly larger. He makes himself as tall as possible by standing on three leg pairs and lifting himself tall, raising and clapping his front legs rhythmically; he also moves his pedipalps and abdomen.
The larger a male is, the higher his quality, the researchers assume. A female will probably prefer to copulate with a large male, because his offspring will inherit his superior qualities. The mohawk may give the female an extra clue about his size, because, as measurements show, the larger the male, the longer his tufts.
Avoiding cannibalism
A striped male has to come closer to a female to attract her attention, because she is not able to discern him easily at a great distance. He courts at only 3 centimetres from her, running the risk of being cannibalized. He makes himself as small as possible by crouching and he slides in semicircles, while holding his front legs in a triangle-like configuration.
Experiments with prey (termites) in different capes of coloured paper show that potential prey with a black-and-white stripe pattern is more conspicuous. Still, it is not attacked more frequently than prey with a solid gray or orange colour. Apparently, the stripes suppress the aggression of female Maevia inclemens, perhaps because many striped prey species are venomous.
Two solutions
Both types of males seem to have a different solution for the problem of approaching a cannibalistic female, the researchers write, which is reflected in their dimorphic appearance and behaviour. The tufted male signals his quality at a far distance, while the striped male attracts her attention while reducing her aggression from nearby. In other words: the tufted male tries to stimulate her mating behaviour, the striped male to temper her appetite.
If a female is willing, the encounter follows the same pattern for both male types. They behave the same, have the same chance of mating successfully and on average sire the same number of offspring. After mating, they again run the risk of being consumed, but in almost all instances they are able to escape.
Genetic determined?
The story about the alternative strategies of Maevia inclemens males is not yet complete, Lietzenmayer indicates. Many questions are still open, for example: is a female actually able to estimate the size of a tufted male from his tufts' length? Are courting males with striped legs really more visible from close distance than solid coloured males?
In addition, it is not yet known whether the difference between the male types is genetically determined and how it originated.
Few animal species are known with different male types. This remarkable jumping spider is one of them, and it will be fascinating to find out why.
Willy van Strien
Photos:
Large: Maevia inclemens, striped male. Opoterser (Wikimedia Commons, Creative Commons CC BY 3.0)
Small: Maevia inclemens, tufted male. Tibor Nagy (via Flickr, CC BY-NC-ND 2.0)
Watch both male types courting
Sources:
Lietzenmayer, L.B., D.L. Clark & L.A. Taylor, 2019. The role of male coloration and ornamentation in potential alternative mating strategies of the dimorphic jumping spider, Maevia inclemens. Behavioral Ecology and Sociobiology 73: 83. Doi: 10.1007/s00265-019-2691-y
Clark, D.L. & B. Biesiadecki, 2002. Mating success and alternative reproductive strategies of the dimorphic jumping spider, Maevia inclemens (Araneae, Salticidae). The Journal of Arachnology 30: 511-518. Doi: 10.1636/0161-8202(2002)030[0511:MSAARS]2.0.CO;2
Clark, D.L., 1994. Sequence analysis of courtship behavior in the dimorphic jumping spider Maevia inclemens (Araneae, Salticidae). The Journal of Arachnology 22 : 94-107.