Spikethumb frog males transfer messages to females by biting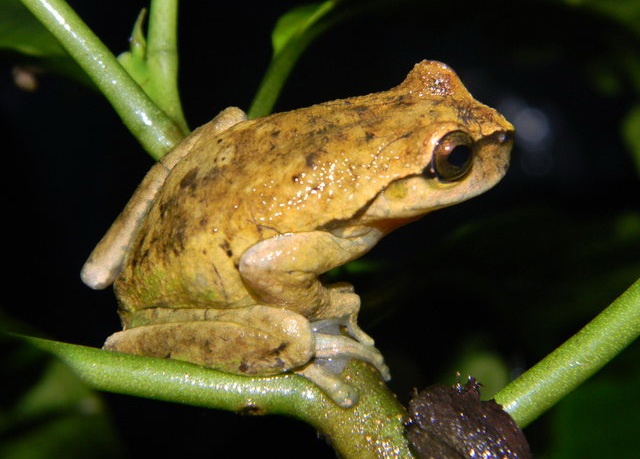 Males of three spikethumb frog species give their mate a chemical message during mating, using their upper teeth, as Lisa Schulte and colleagues show.
During mating, males of some species of spikethumb frogs (Plectrohyla) press their upper lip onto their mate's head or back. That's not exactly a caress, on the contrary: they scrape their teeth over it, Lisa Schulte and colleagues found. The scratches are clearly visible afterwards. Why would they do this?
Swollen lips
In three species, females are found that have scratches on their head or back: Hartweg's spikethumb frog (Plectrohyla hartwegi), Matuda's spikethumb frog (Plectrohyla matudai), and arcane spikethumb frog (Plectrohyla sagorum). The distance between the scratches is similar to the distance between the upper teeth of the males, which are elongated and protruding. These frogs live in the South American tropics.
In addition to elongated teeth, the males have swollen upper lips during the breeding season. They turn out to contain specialized, large glands. These produce mucus and excrete it on the inside and outside of the lips. The researchers found several proteins in the mucus, including proteins known from salamanders as messenger molecules with which the animals communicate with each other.
Direct message
The conclusion is that during mating, the males transfer the mucus of the glands into their partner's skin with teeth and lips. These proteins are probably taken up by the blood and delivered elsewhere. As a consequence, eggs are laid more quickly, the researchers think.
That would  be advantageous. When mating, a frog male clings to a female with a mating embrace or amplexus. The two stay like this for hours or even days, until she lays her eggs, and he can fertilize them. And all the while, such a joined pair is less agile than a single frog, and thus an easy prey for predators. The sooner a mating is completed, the shorter that unsafe state lasts.
The males are not very gentle. But if the mating is finished earlier because of the biting behaviour, both partners benefit. It is not yet known whether mating indeed is faster.
Anyway, the males of these frogs give off a chemical message during mating and are sure that it is received.
Willy van Strien
Photo: Plectrohyla sagorum. Ruth Percino Daniel (Wikimedia Commons, Creative Commons CC BY-SA 3.0)
Source:
Schulte, L.M., A. Martel, R. Cruz‑Elizalde, A. Ramirez‑Bautista & F. Bossuyt, 2021. Love bites: male frogs (Plectrohyla, Hylidae) use teeth scratching to deliver sodefrin precursor‑like factors to females during amplexus. Frontiers in Zoology 18: 59. Doi: 10.1186/s12983-021-00445-6