Female knows if partner observes her behaviour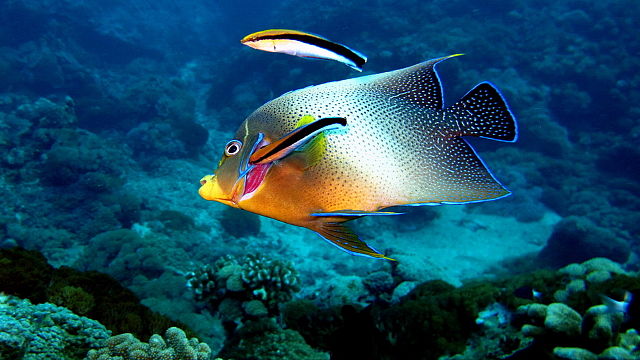 A bluestreak cleaner wrasse female sometimes scares a customer away by biting off a bit of its mucus layer. But if she knows that her partner can see what she's doing, she behaves somewhat better, Katherine McAuliffe and colleagues report.
Bluestreak cleaner wrasses (Labroides dimidiatus) often work in pairs. Male and female jointly inspect their clients, fish that want to be cleaned. With their pointed snout, the cleaners pick up ectoparasites and dead skin cells. It is a textbook example of cooperation between species, called mutualism: clients get rid of their parasites, cleaners have a meal.
In cleaner wrasses that operate as a couple, a conflict sometimes arises because the female bites a client; that client then will leave, causing the male to miss his meal. A female cleaner is more likely to misbehave if she knows that her partner can't see what she's up to, Katherine McAuliffe and colleagues found.
Punishment
When a female cleaner bites, it is for good reason. She takes a mouthful out of a client's protective mucus layer. This is tempting, especially during breeding season, because she needs a lot of energy and mucus is more nutritious than the parasites she should be eating. But upon being bitten, a client leaves, and the male, that serves the client properly, is the victim: because she cheats, he also loses the client – without the benefit of ingesting a bit of mucus like she has done.
There is also a risk that he will lose his territory, in which several females live. This is because these fishes change sex during their lifetime. Young cleaner wrasses are always females which, after reaching a certain size, become males. A female that eats nutritious mucus grows well. If she is almost the same size as her partner, she can change sex any moment and compete with him; maybe she'll manage to chase him off and take over his territory.
It is therefore logical for a male not to tolerate that his partner bites a client. When she does, he punishes her by chasing or biting her. It was known from previous research that he punishes more severely when the client is larger, presenting more food. The punishment is also more severe if his partner is about the same size as himself and a risk of takeover exists.
After punishment, the female delivers good service to the clients and the partners cooperate well.
Model clients
McAuliffe already knew that cleaners treat their clients better when other fishes, potential clients, are watching. That is because bystanders leave when they see clients being hurt. Now, she wanted to know whether a bluestraek cleaner wrasse female is less likely to cheat a client when she knows that her partner can see her.
The cleaner fish live on coral reefs, where they occupy a 'cleaning station', as single or as a couple. It is difficult to observe exactly what is happening between cleaners and their clients. That is why the researchers did experiments in the lab, where they brought cleaner pairs into contact with artificial clients: plexiglass plates with food items stuck on them. Mashed prawn, which cleaner fish like, served as a model for a client's mucus; a mixture of fish flakes and prawn, which the cleaners like less, did for parasites.
First, the cleaner fish learned to deal with the model clients. If they ate fish flake mixture, against their preference, that was seen as good cleaning service. But if they took a bite of mashed prawn, it was considered cheating, and the researchers removed the model client.
After training, the researchers first investigated how females behave when their partner was separated from them by either a transparent or an opaque barrier. As soon as a female took a bite of mashed prawn, the model client was removed, and her partner was given access.
Bad service
When their partner was visible and could see them, cleaner females ate a little more fish flake items on average before taking a bite of mashed prawn and chasing off the model client. So, in that case, the females provided a better service. If the partners were invisible to each other, females took less fish flake items. In other words, they cheated more in secret.
Males, that could punish their partner after she had eaten mashed prawn, punished less severely the more fish flake items she had consumed before. Surprisingly, it made no difference whether males had seen their partner's behaviour or not. Apparently, they still noticed somehow how much their partner had cheated.
Choosing two times
So, it seems that females are aware whether their partner is or is not able to observe what they are doing, and that they are more inclined to cheat a client when the partner cannot see it.
A next, somewhat more complicated test affirmed this finding. In this set-up, the male was again behind a transparent or opaque partition, but now, two model clients were offered behind additional partitions. One of them was visible to the male – if the male himself was behind a transparent partition- behind a transparent partition; the other was hidden from him behind an opaque screen. The female was allowed to choose which model client to serve. She was given the choice twice; in between the male was admitted, having the opportunity to punish her.
The first time, females were more likely to choose the model client behind the opaque partition if their partner could watch them than if he couldn't. But the second time, they went more often to the model client behind the transparent partition. This was probably because males were more likely to punish their partner after the first time if she had visited the hidden client. And, in accordance with the first experiment, they punished her whether they had been able to see that she went there or not. Apparently, she betrayed herself somehow.
Clever fish
The researchers' main conclusion: a bluestreak cleaner wrasse female is more likely to cheat a client if she knows that her partner, who punishes bad behaviour, cannot see what she is doing. In the first trial, females more quickly took a mashed prawn item, which equated to the protective mucus layer of a client fish. In the second trial, they initially preferred to visit a model client hidden from the partner to a visible one.
That she realizes what he can see indicates impressive cognitive capacities. Such capacities were already known: the cleaners recognize themselves in a mirror.
But the question is why a female should care about whether her partner can see her bad behaviour or not, because that did not affect the punishment.
So, the story still does not have an end. But it probably will continue, as the research group has been conducting thorough research on these cleaner fish for years.
Willy van Strien
Photo: Bluestreak cleaner wrasse cleaning a blue angelfish (Pomcanthus semicirculatus). Longdongdiver (Vincent C. Chen) (Wikimedia Commons, Creative Commons CC BY-SA 4.0)
More about the behaviour of bluestreak cleaner wrasse
Sources:
McAuliffe, K., L.A. Drayton, A. Royka, M. Aellen, L.R. Santos & R. Bshary, 2021. Cleaner fish are sensitive to what their partners can and cannot see. Communications Biology 4: 1127. Doi: 10.1038/s42003-021-02584-2
Kohda, M., T. Hotta, T. Takeyama, S. Awata, H. Tanaka, J-y. Asai & A.L. Jordan, 2019. If a fish can pass the mark test, what are the implications for consciousness and selfawareness testing in animals? PLoS Biol 17: e3000021. Doi: 10.1371/journal.pbio.3000021
Raihani, N.J., A.I. Pinto, A.S. Grutter, S. Wismer & R. Bshary, 2012. Male cleaner wrasses adjust punishment of female partners according to the stakes. Proceedings of the Royal Society B 279: 365-370. Doi: 10.1098/rspb.2011.0690