Smelly Gastrodia orchid provides food for fly larvae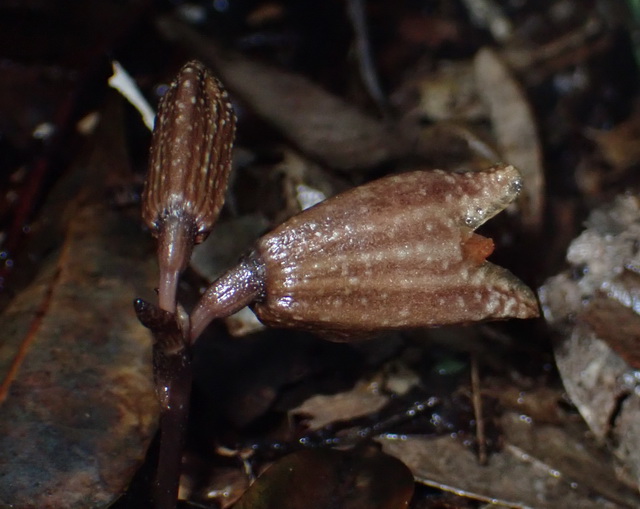 For its pollination, Gastrodia foetida, attracts female flies that normally visit mushrooms to lay their eggs on. The orchid seems deceptive, but it is not, Kenji Suetsugu discovered.
Many orchids are cheaters. Whereas most plants cooperate with insects and offer them nectar as a reward for pollination, such orchids have their flowers pollinated without offering a reward in return. They lure their pollinators with false pretences. For example, some orchids mimic female insects to abuse males who want to mate and, in their futile attempts, pick up pollen from one flower and deposit it on another.
Another type of deception is perpetrated by orchids of the genus Gastrodia. They attract fly females who want to lay eggs by mimicking the smell of material in which fly larvae grow up, such as fermenting fruits or decaying mushrooms. But the promise is false, as turns out when females visit these flowers. If they lay eggs on them, which they do occasionally, the larvae that hatch die of starvation.
Gastrodia foetida is an exception, Kenji Suetsugu discovered.
Entrapped
Gastrodia foetida is a rare plant from the forests of Japan and Taiwan. As do other Gastrodia species, the plants have no normal leaves, and the succulent flower does not look like much to us: it is inconspicuous and brown. But to females of some fly species the flower is attractive because of its musty smell; foetida means stinky. A common visitor is Drosophila bizonata, a species with larvae that develop in decaying mushrooms.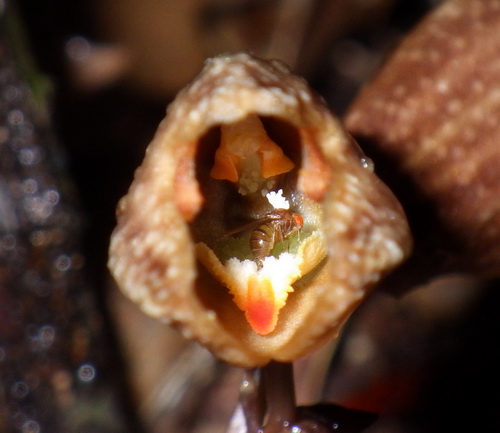 When a female fly enters the flower, the hollow lip in the flower bends up to the column that carries pistil and stamens. The female is stuck in the resulting channel between column and lip. To escape from that trap chamber, she has to crawl through a narrow opening along the stamens, and then the pollen, which is packed in two clumps, gets attached to her back (unless there had been another fly before, because then the clumps are already gone). If she then visits another flower in which she is locked up again, the pollen clumps end up on the pistil and this flower will produce many seeds. In other Gastrodia species, things go in the same way.
Decomposing flowers
But unlike those other species, the stinky orchid really is a suitable place to lay eggs on. Suetsugu frequently found eggs on flowers of Gastrodia foetida that had been visited by a female fly. And surprisingly, the eggs hatch and the larvae do not die, but grow well. Three or four days after pollination, the flowers fall off, leaving only the ovary behind. As the flowers decompose on the soil, the larvae feed on the floral tissue until they mature and pupate. Two weeks after pollination they emerge as adult flies.
Although the larvae of Drosophila bizonata are mushroom eaters, these flowers apparently meet their needs.
Mutual service
It is not clear why mushroom eating fly larvae can also grow well on these flowers. It may have to do with the fact that the orchid cannot make its own sugars through photosynthesis, like normal plants, because it does not have the green leaves necessary for this process. Instead, it steals sugars from fungi. Suetsugu suggests that, as a result, the plant tissue may have chemically similarities to that of mushrooms.
In any case, Gastrodia foetida appears to have gone from deception back to mutualism with pollinators, but with a reward other than nectar. Flies pollinate the flowers, and the succulent decomposing flowers then serve as food for their larvae. It is the first time that this form of 'nursery pollination' has been demonstrated.
The mutualism is indispensable for the plant, but not for the fly; it still can lay its eggs on mushrooms also.
Willy van Strien
Photos: ©Kenji Suetsugu
First: Gastrodia foetida
Second: Drosophila bizonata carrying pollen on its back in de flower; the trap chamber (the column above, the lip below) is open
See also:
Gastrodia pubilabiata smells like a brood site for fly larvae, but it is not
Source:
Suetsugu, K., 2023. A novel nursery pollination system between a mycoheterotrophic orchid and mushroom-feeding flies. Ecology, online 23 August. Doi: 10.1002/ecy.4152