Nuthatch transmits indirect information only partially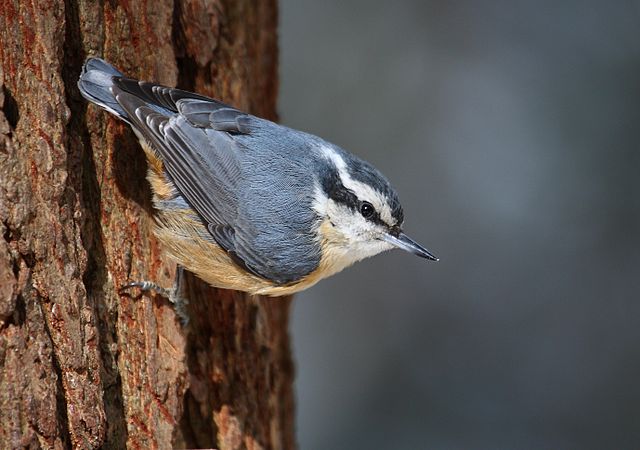 The red-breasted nuthatch understands the alarm call of black-capped chickadees perfectly. But it doesn't propagate all the information that it contains in its own call, as Nora Carlson and colleagues show.
An owl that is perched on a tree branch during daytime does not pose an immediate threat to songbirds. Yet, they would rather not have it in their neighbourhood. By making a lot of fuss with a group, which is called mobbing, they try to bully the predator away.
This behaviour is also exhibited by the red-breasted nuthatch from North America. If the bird is aware of an owl being around, it will recruit conspecifics to participate in mobbing. In its mobbing call, it encodes how dangerous the owl is that has to be chased away, as Nora Carslon and colleagues write. At least: if the nuthatch itself observed the enemy.
Aroused
That is because not all owls pose similar threats. The great horned owl, a large bird about half a meter in length, is not agile enough to easily catch a songbird; it is therefore not very threatening. The small, agile northern pygmy owl is much more dangerous.
Accordingly, nuthatches react differently to hearing either great horned owl or pygmy owl, as appeared from playback experiments in which the researchers exposed the songbirds to the calls of both predators. Upon hearing a pygmy owl, the mobbing call of nuthatches consists of shorter, higher-pitched calls that are uttered at higher rate than after hearing a great horned owl. Their conspecifics then are more aroused and exhibit mobbing behaviour for longer and more intensively – in this case against the speakers that were used by the researchers.
Consequently, the songbirds spend their time and energy mainly in chasing away the most dangerous enemies.
Eavesdropping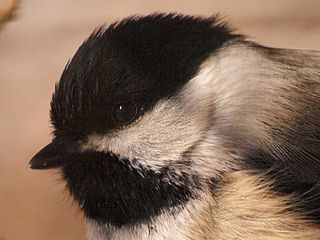 Nuthatches not only rely on their own ears; they also make use of the vigilance of other songbirds and eavesdrop on their alarm calls.
The researchers had shown previously how they respond appropriately to mobbing calls of black-capped chickadees, which also encode whether they face a less dangerous great horned owl or a more dangerous northern pygmy owl. When nuthatches hear chickadees calling in response to pygmy owl, they make more fuss and they will also produce more mobbing calls than when they hear chickadees' response to great horned owl. So, they understand the message of chickadees very well.
But despite that understanding, nuthatches don't propagate in their own mobbing call the level of danger according to chickadees, like they do after observing the enemy themselves. If the information is from chickadees, they will not indicate how dangerous the enemy is; their mobbing call is intermediate in call length, pitch and rate at high and low risk.
Less reliable
And perhaps, this is not so bad. Although nuthatches and chickadees share many predators, they are not equally vulnerable to those enemies, due to their different lifestyles. How chickadees perceive and communicate the threat of different enemies can differ from how nuthatches would estimate the level of danger, making the information obtained from chickadees a bit less reliable.
Willy van Strien
Photos
Large: red-breasted nuthatch. Cephas (Wikimedia Commons, Creative Commons CC BY-SA 3.0)
Small: black-capped chickadee. Shanthanu Bhardwaj (Wikimedia Commons, Creative Commons CC BY-SA 2.0)
Sources:
Carlson, N.V., E. Greene & C.N. Templeton, 2020. Nuthatches vary their alarm calls based upon the source of the eavesdropped signals. Nature Communications 11: 526. Doi: 10.1038/s41467-020-14414-w
Templeton, C.N. & E. Greene, 2007. Nuthatches eavesdrop on variations in heterospecific chickadee mobbing alarm calls. PNAS 104: 5479-5482. Doi: 10.1073_pnas.0605183104
Templeton, C.N., E. Greene & K. Davis, 2005. Allometry of alarm calls: black-capped chickadees encode information about predator size. Science 308: 1934-1937. Doi: 10.1126/science.1108841