Cuckoo catfish improves its timing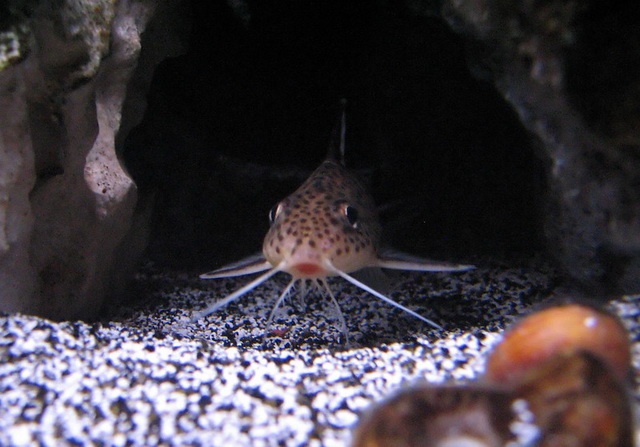 It is not easy for a cuckoo catfish to get its eggs adopted by intended host parents, because these are wary. But it learns the trick by experience, as Holger Zimmermann and colleagues show.
Cuckoo catfish dump their eggs at host parents to let them take care of their offspring: they are brood parasites. That seems easy and, in a way, it is, because the eggs can develop safely without the real parents having to worry. But they do have to bring them to the host parents, and that is not so easy. In that sense, cuckoo catfish spend more effort for their offspring than most fish, which simply lay eggs and leave them behind.
They have to practice the art of parasitism, Holger Zimmermann and colleagues write. The cuckoo catfish (Synodontis multipunctatus) is, as far as we know, the only fish species that, like a cuckoo, relegates the raising of its offspring to others. It lives in Lake Tanganyika in Africa.
Abuse
It takes advantage of species of cichlids that have the most extensive form of parental care, the so-called mouthbrooders. In these species, mothers take the fertilized eggs in the mouth and keep them there until they hatch, after a few weeks.
During spawning, such mouthbrooding cichlids circle around each other and release eggs and sperm; in between acts, they defend the spawning site against intruders.
But a group of cuckoo catfish may intrude. They consume some cichlid eggs before the mother has been able to collect them and drop a few eggs themselves and fertilize them. The cichlid mother panics and collects her eggs as fast as she can; in her haste, she also takes up catfish eggs.
The catfish must interfere at exactly the right time, when the female cichlid is busy laying eggs; it's a matter of seconds. By experience, they learn to improve the timing of egg laying and fertilization, Zimmermann shows with experiments in tanks, in which he exposed cichlids (4 males and 12 females) to three cuckoo catfish pairs.
Sharper timing
The researchers searched for host parents that have no resistance against the underwater cuckoo. With resilient host parents, the learning process of the parasite would not show up. They selected the mouthbrooder Astatotilapia burtoni, which lives in Lake Tanganyika and is known to the catfish. But they took a population from a neighbouring river, where the cuckoo catfish does not occur. The chosen host parents have no innate defences against cuckoo catfish, nor do they learn to avoid it, but they do behave aggressively towards any fish that disturb the spawning to predate on eggs.
Unexperienced cuckoo catfish almost never managed to get their eggs taken up by these host parents. Only 3 percent of their attempts succeeded. But after some time – in the experiments after four months, about 30 attempts – things got much better: more than 25 percent of the attempts now was successful. That success rate did not increase further. Experienced catfish also managed to consume more eggs of the host parents in the brief time available.
The improvement was possible because the parasites learn to lay and fertilize their eggs at precisely the right time, as behavioural observations showed. In addition, groups of catfish improve the coordination of their intrusive act.
Host parent is loser
Most attempts fail, though, even in experienced cuckoo catfish, because the vigilant cichlids outsmart their enemy. But that does not matter, because the profits for the parasite are large if the action does succeed. A host mother then carries on average five parasite eggs. The catfish will hatch sooner than the cichlids, and the young catfish devour some cichlid embryos.
The host mother is the loser. She is abused and produces fewer young of her own.
Willy van Strien
Photo: Cuckoo catfish. Calwhiz. (Via Flickr, CC BY-NC-ND 2.0)
Cichlids from Lake Tanganyika have learned to coexist with cuckoo catfish
Source:
Zimmermann, H., R. Blažek, M. Polačik & M. Reichard, 2022. Individual experience as a key to success for the cuckoo catfish brood parasitism. Nature Communications 13: 1723. Doi: 10.1038/s41467-022-29417-y