Aegean wall lizard with white throat is more brave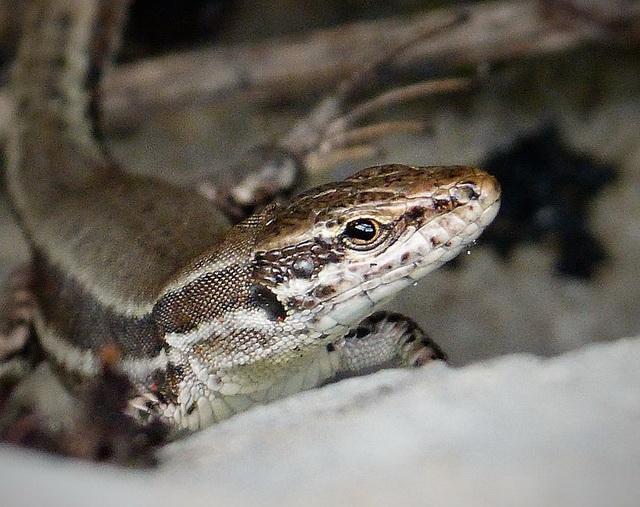 An Aegean wall lizard with striking throat colour will run off fast when a predator looms, Kinsey Brock and Indiana Madden write.
In Aegean or Erhard's wall lizard, Podarcis erhardii, different colour morphs exist: the animals have either a white, yellow or orange throat. The lizards can be found on walls in South-eastern Europe, in a dry landscape with tough shrubs. They have several predators: snakes, birds, and mammals.
When a predator appears, a lizard will flee. But that implies that it must stop what it was doing: sunbathing or foraging for food. For that reason, it will not leave until necessary. Kinsey Brock and Indiana Madden wanted to know whether the three colour morphs have a similar flight initiation distance. They checked the distance they could approach a lizard before it ran away.
Careful
The throat colour of the Aegean wall lizard is genetically determined. Most animals, males and females alike, have a white throat; yellow and orange are less common. There are also individuals with mosaic throat colours, but they are rare. Brock and Madden investigated lizards with plain throat colour on the Greek island of Naxos.
You can get most closely to the white-throated wall lizards, they found; lizards with an orange throat run off earliest; yellow-throated animals are in between.
So, animals with an orange throat are the most careful. They also stay closest to a refuge: a crevice in a wall or dense vegetation. And once they fled, they are slower to reappear than animals with yellow or white throats.
It is in line with lab research showing that white-throated males are the most aggressive, bold, and brave.
Striking colour
An orange-throated Aegean wall lizard probably is more wary because it is more detectable. The grey-brown blotchy body has a camouflage colour, but a yellow, and especially an orange throat stands out against the background. This makes it easier for a predator to discover a lizard with an orange throat, so, in turn, it must flee earlier to escape from the enemy.
Willy van Strien
Photo: Male Podarcis erhardii with white throat. Gailhampshire (Wikimedia Commons, Creative Commons CC BY 2.0)
Source:
Brock, K.M. & I.E. Madden, 2022. Morph‑specific differences in escape behavior in a color polymorphic lizard. Behavioral Ecology and Sociobiology 76: 104. Doi: 10.1007/s00265-022-03211-8