Foster family protects duck eggs against birds of prey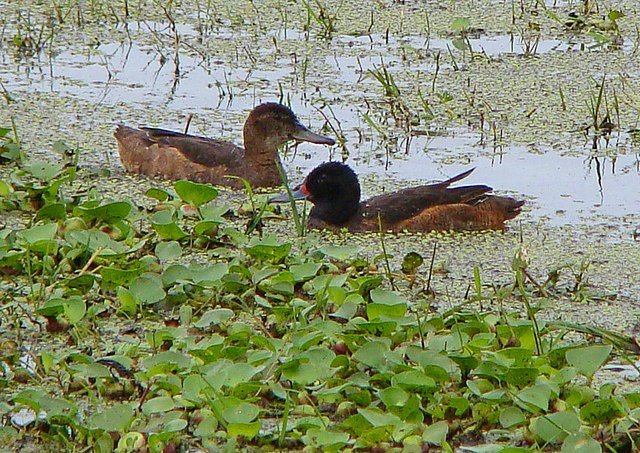 Young cuckoo ducks do not need any care: they are independent upon hatching. Then why does the duck burden other birds with its eggs, Bruce Lyon and colleagues wondered.
In South America a duck species occurs that, like a cuckoo, lays its eggs in nests of other bird species. The hosts then unintentionally take care of them. This is the black-headed duck, Heteronetta atricapilla, with the appropriate nickname cuckoo duck; it is a so-called brood parasite.
Bruce Lyon and colleagues wondered why the cuckoo duck dumps its eggs in other birds' nests. They don't require much care, apart from brooding. After hatching, the young are immediately independent. That is a big difference with all other brood parasites, such as the common cuckoo. These species have young that have to be fed and protected for weeks, so it is very profitable for parents to outsource the care. But how does the cuckoo duck profit?
Easy prey
The shedding of parental duties may have to do with the danger of predation, Lyon hypothesized. If the cuckoo duck were to make its own nest, it would be close to water. And in such nest, eggs are easy prey for avian predators, especially the chimango caracara. This was shown in experiments in which the researchers placed chicken eggs in a self-made, unguarded nest. Within a few days, all eggs were gone.
Unless they placed the nest in a colony of brown-headed gulls. In that case, hardly any egg was stolen.
This gull is one of the hosts in whose nests the cuckoo duck dumps its eggs. In Argentina, where the study was conducted, two other important hosts occur, the red-fronted coot and the red-gartered coot. Like the brown-headed gull, they are aggressive birds that are capable to defend their nests fiercely. Is that the reason why the cuckoo duck chooses them to care for its offspring?
Safe
It seems to be. The duck eggs are indeed quite safe with these fierce foster parents, the researchers noted. Admittedly, it may happen that foster parents recognize a foreign egg and throw it out of the nest. But if they accept the egg, it almost always remains undisturbed and hatches. This very high chance of survival upon acceptance far outweighs the risk of rejection.
The researchers do not know exactly how much the cuckoo duck gains. They could not determine how many eggs would survive in a self-defended nest, because it never builds a nest. But related duck species that do incubate and guard their own eggs lose quite a lot to birds of prey.
Willy van Strien
Photo: black-headed duck couple. Cláudio Dias Timm (Wikimedia Commons, Creative Commons BY-SA 2.0).
Source:
Lyon, B.E., A. Carminati, G. Goggin & J.M. Eadie, 2022. Did extreme nest predation favor the evolution of obligate brood parasitism in a duck? Ecology and Evolution 12: e9251. Doi: 10.1002/ece3.9251