Blue tit covers her clutch in case of danger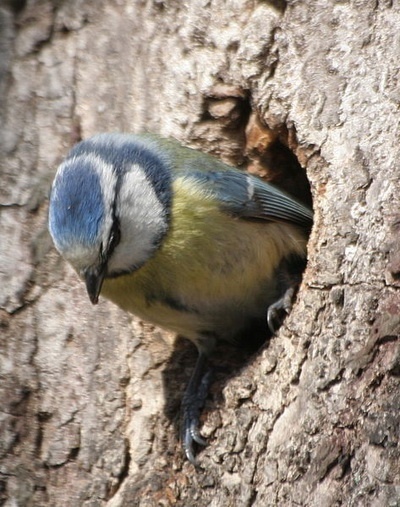 Are there any signs indicating that a predator is nearby? In that case, it is more likely that blue tit females will conceal the eggs, Irene Saavedra and colleagues show.
During the egg-laying period, blue tit females add a new egg to their clutch every day, and it was known that they sometimes deposit nest material on the eggs. When the clutch is completed, they start incubating. From that moment on, they no longer will cover the eggs, but are sitting on them continuously. Their male partners will bring them food.
Why do some females take the trouble to cover their clutch during the egg-laying period? One of the reasons, Irene Saavedra and colleagues hypothesized, may be to hide the eggs from predators. Blue tits breed in tree cavities, and also use nest boxes. A closed nest is safer than an open nest, such as that of a blackbird: larger predators cannot enter. But perhaps blue tit females take extra protective measures if needed.
Pungent
Experiments confirmed the hypothesis. During the egg-laying period, the biologists placed a piece of absorbent paper soaked with the urine and the anal gland fluid of a ferret, a marten-like predator, in a number of nest boxes; they pushed it between the floor and the nest. Such paper emits a strong scent. They already knew that blue tits recognize that scent and realize that it indicates danger. As a control, they placed a piece of paper with lemon scent or odourless wet paper in other nest boxes.
The blue tit mothers responded to the pungent predator's smell. If a next box contained the scent, the chance that the occupant covered her clutch was higher than if a lemon odour was present or no odour at all. So, covering the eggs appears to be a measure to protect them if a predator is nearby; the tits may however have additional reasons to cover their clutch.
Whether the concealment helps in practice has not yet been investigated. It will not always do, because if a predator searches the nest thoroughly, he may find the hidden eggs.
Willy van Strien
Photo: N.P. Holmes (Wikimedia Commons, Creative Commons CC BY-SA 3.0)
Sources:
Saavedra, I. & L. Amo, 2019. Egg concealment is an antipredatory strategy in a cavity-nesting bird. Ethology, 5 augustus online. Doi: 10.1111/eth.12932
Amo, L., I. Galván, G. Tomás & J.J. Sanz, 2008. Predator odour recognition and avoidance in a songbird. Functional Ecology 22: 289-293. Doi: 10.1111/j.1365-2435.2007.01361.x